We were expecting to see this one announced at CES earlier this month, but better late than never, the Video Electronics Standards Association (VESA) has today officially unveiled version 1.2 of the DisplayPort interface.
Described as "the industry's most innovative and flexible digital communication interface standard for transporting display, audio and other data," DisplayPort 1.2 offers a massive 21.6Gbps transfer rate - double the 10.8Gbps limit of DisplayPort 1.1a.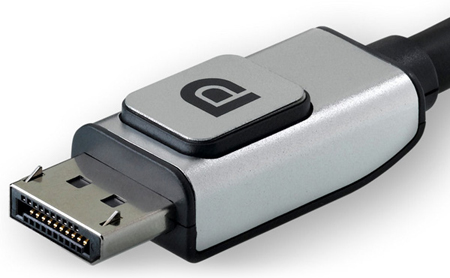 That surge in available bandwidth has opened up the interface to a whole new spectrum of uses. DisplayPort 1.2 now supports "multi-streaming", a feature that allows it to transport multiple display and audio streams over a single cable. For the consumer, the technology essentially facilitates multiple monitors with a single cable - with VESA confirming that a single DisplayPort 1.2 connection will happily power four monitors at 1,920x1,200.
As expected, the available bandwidth is open to other applications, too, including bi-directional data transfer, where a single DisplayPort cable is also able to carry USB 2.0 or Ethernet data. Though, a DisplayPort 1.2-enabled PC is required.
Just want to know what it'll mean for your primary display? Well, DisplayPort 1.2 will allow resolutions of up to 3,840x2,400 at 60Hz or a 120Hz 3D display at 2,560x1,600. Of course, the added bandwidth also ensures support for a multitude of high-def audio formats including Dolby HD and DTS HD.
With bolstered AV credentials, the royalty-free DisplayPort interface could now pose a bigger threat to the industry's de facto standard, HDMI.
Official press release: VESA Introduces DisplayPort v1.2, the Most Comprehensive and Innovative Display Interface Available