It's now common knowledge that AMD is going to debut its next-generation graphics-card hardware imminently. Resuming a leap in architecture 15 months after the release of the Radeon HD 4K series, it is safe to assume that the high-end DX11-compliant cards will be helluva fast. We expect multi-teraFLOP performance and more memory bandwidth than you can shake a big stick at.

AMD, though, has another trick up its sleeve with the new cards and it may just change how we view the output. Welcome to the world of Eyefinity. Catchy name, huh?

The premise behind Eyefinity is to enable users to push a single card's output - be it 2D or 3D - to a maximum of six screens, simultaneously, and up to a resolution of 2,560x1,600 pixels each. Do the math and that's 24.5MP of gorgeous resolution,

per card.



High-end next-generation cards will all be plumbed with ability to internally process up to six digital signals, be they HDMI, DVI, or DisplayPort, although only three will be physically outputted through the rear on most models. The likely combination will be dual DVI and HDMI, we imagine.

Special-edition cards - more of a proof of Eyefinity technology - will have six DisplayPort outputs that can each drive a 2,560x1,600 monitor, giving the requisite 24.5MP output - 7,680x3,200px of eye-poppin' detail.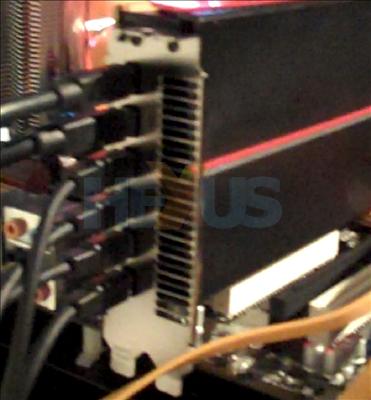 DisplayPort heaven.

From what we saw at a press event recently, Eyefinity will provide independent scaling on monitors with differing native resolutions, thereby bringing real multi-monitor support to the fore and making them genuinely handy in the workstation/graphics market.

Could you drive six high-resolution screens from a single card and still play the latest games on them? AMD demonstrated the upcoming DX11 DiRT 2 on a triple-monitor setup, running rather smoothly at an insane resolution.

The question then arises as to whether ultra-high-resolution support is available for a wide variety of games. The answer, AMD says, is governed by ensuring that Windows sees the bank of monitors as a single source - the games generally take their cue from Windows' resolution settings. AMD's made the necessary driver-level optimisations in the latest Catalyst Control Centre.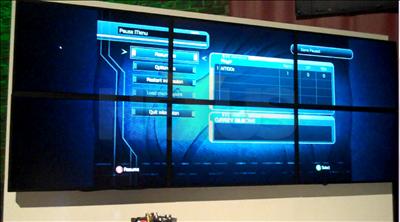 Six monitors from a single card.

Is it a gimmick or does it make real sense? Considering the cumulative price of, say, three 22in, 1,680x1,050-capable monitors, to the tune of £350, we reckon that it provides a relatively cheap method of attaining high-pixel outputs if you can ignore the visual interference caused by monitor bezels. Increase the monitor count and the fiscal attractiveness diminishes in the face of rising costs for DisplayPort-equipped screens.

Learn more here.

Hmmm. GeForce 3D Vision or ATI Eyefinity. How about combining both, folks?