Remember the giant curved screen being shown off in prototype form by Alienware in January '08? Despite plenty of interest in the screen, we've heard little in regards to retail availability in the 15 months that have since passed, and we'd almost forgotten the screen ever existed.
Fortunately for those still dreaming of the ultra-wide experience, NEC hasn't forgotten and is bringing its own giant curved screen to market as soon as next month.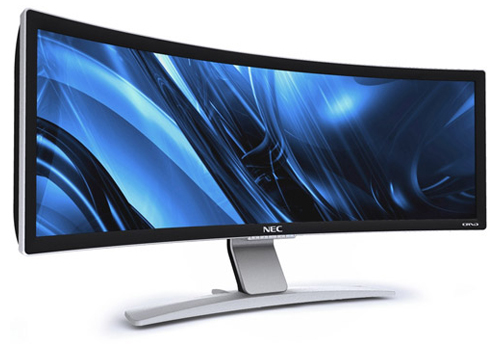 It's called the NEC CRV43, and it's a 43in curved display that - like the prototype from Alienware - provides a 2,880x900 resolution by "seamlessly" stitching together four LED DLP projectors.
According to NEC, it'll provide a 12-bit colour depth, a response time of 0.02ms, 200cd/m² brightness, and a 10,000:1 contrast ratio. Connectivity options come in the form of HDMI and DVI, and the display packs USB ports, too.
Sounds impressive, but here's the catch; it'll hit retail next month with a suggested retail price of around $8,000.