VESA, the international non-profit corporation that supports and sets industry-wide interface standards for the PC, workstation, and consumer electronics industries, has stepped in to define a new standard open HDR specification. Until now you might have been concerned about HDR support and compatibility between output and input devices but VESA's new triple level standard, with its heavyweight backing, should help fix that issue over coming months.
As VESA writes upon its dedicated DisplayHDR microsite, "HDR logos and brands abound, but until now, there has been no open standard with a fully transparent testing methodology." Display HDR will remedy this with the display industry's first fully open standard specifying HDR quality, including luminance, colour gamut, bit depth, and rise time. Three important steps will ensure the success of DisplayHDR and its adoption far and wide:
Creating a specification for the PC industry that will be shared publicly and transparently
Developing an automated testing tool that end users can download to perform their own testing if desired
Delivering a robust set of test metrics for HDR that clearly articulates the performance level of the device being purchased
If you were a bit concerned over the mention of this being a triple level standard, it must be understood that VESA has divided its standard for different target markets. In the chart below you can see the three DisplayHDR certified levels and their qualities. For example DisplayHDR 400 is aimed at the entry level and sets a minimum peak luminance of 400cd/m2, includes global dimming, offers true 8-bit imagery, and adheres to minimum colour gamut and contrast specs. DisplayHDR 600 and DisplayHDR 100 raise all these minimum spec levels, and more, to appeal to pro/enthusiast and pro/content creators, respectively.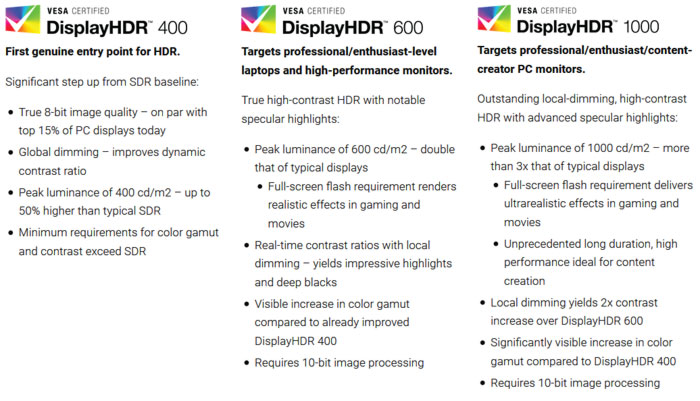 A full list of performance criteria and the DisplayHDR tiers is available here.
New products with VESA DisplayHDR certification will be on demonstration at CES 2018 in January. In a similar timeframe you will be able to download the DisplayHDR test tool software. A reassuring list of over two dozen active member companies will back VESA's DIsplayHDR standards, including names such as; AMD, Asus, AUO, Dell, HP, Intel, Lenovo, LG, Microsoft, Nvidia, Samsung, and more.