HP has launched a pair of new DreamColor displays, which will join the three already available. Designed for the colour critical market consisting of artists, photographers, and filmmakers the new displays promise to set a "gold standard for colour accuracy". However, the new pair are destined for the extremes of HP's DreamColor range; the HP DreamColor Z31x Studio costs $3999, but the HP DreamColor Z24x G2 Display is HP's entry level offering in this porofessional market, at $559.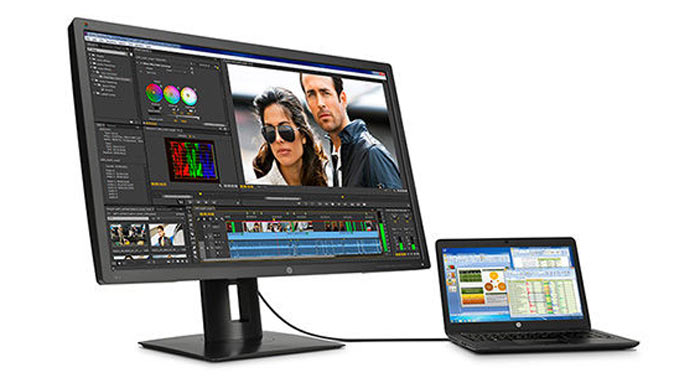 HP DreamColor Z31x Studio
This is a 31-inch monitor with a 10-bit IPS panel providing more than 1 billion colours, including consistent on- and off-axis black levels. HP says that it has improved upon the underlying IPS tech to reproduce "incredible deep blacks, minimal black lift and rich shadow detail". It would have been interesting to hear how HP achieved this.
There's a built-in colorimeter which can automatically calibrates the display on demand or on a regular calibration schedule. Furthermore, it can be aligned with an in-house reference instrument for consistent, accurate colours facility-wide. In colour gamut reference terms the HP DreamColor Z31x Studio delivers 99 per cent of DCI-P3 - HP's widest colour gamut ever.
For convenience the HP DreamColor Z31x Studio has a built-in KVM (keyboard / video / mouse) switch. That's a handy feature for those who use two computers and want to keep clutter to a minimum. As HP points out, many artists routinely use two computers; a Linux box with their animation/compositing app, and a Windows box with Adobe Photoshop or internet access.
In the announcement HP variously describes this new monitor as "a true Cinema 4K display," and as offering "True 2K viewing" … Unfortunately there are no tech spec filled product pages as yet, just a 'notify me' link for further information when the product becomes available. Availability is scheduled for 'later this year', priced at $3999.
HP Z24x G2 DreamColor Display
This 24-incher is set to become the most affordable DreamColor monitor yet. It delivers "the colour accuracy and consistency that has become synonymous with the HP DreamColor brand" for $559.
The equipped panel offers 1 billion colours and a gamut covering 99 per cent of Adobe RGB. Push-button colour space selection is standard. HP says the Z24x G2 is compatible with both the X-Rite i1 Display Pro and the Klein Instruments K10-A colorimeters via the supplied Windows / Mac calibration software.
If you are interested in the HP Z24x G2 DreamColor Display, it will be available early in July.