Just around the corner is Bearlake X38 - Intel's high-end replacement for the venerable i975X chipset.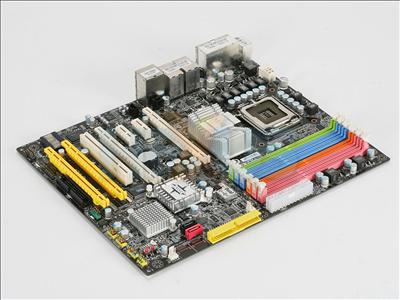 The chipset details are still under wraps until later next month, but MSI is bucking the DDR3-only trend by releasing its X38 Diamond with support for both DDR3 (4 slots) and DDR2 (2 slots), together with a switch-card enabling toggling of memories. Remember, you cannot use them concurrently.

The X38 Diamond will also feature 4 mechanical x16 PCIe slots, arranged in a 16-16-4-4 formation, and it naturally supports AMD's CrossFire multi-GPU technology. PCIe 2.0 is supported, of course.

Adding to the features tally, it seems, will be an integrated Creative X-Fi Xtreme audio chip (as per the P6N Diamond), VoIP-supporting Realtek Codec, debug LED, and an upgraded version of the company's Circu-Pipe cooling (not shown).

Lots of bells and whistles will ensure that it's not cheap, but premium Intel chipset-based boards rarely are. The real question, we suppose, is just how well it will overclock in comparison to NVIDIA's nForce 680i SLI? Time will tell. A three-letter acronym keeps popping into mind - SLI.