Anyone fancy six SATAII and 10 USB ports?

FOXCONN's P35A-S and P35A mainboards are based on Intel 3-Series chipsets and have a few extra features making them well worth a look.

First up is the name for this series of boards, Core 3, which we're sure Intel is dead chuffed about. But that aside, features such as 100 per cent usage of solid capacitors, the EasyPin colour coding system and onboard on/off and reset buttons make this a premium board for the enthusiast.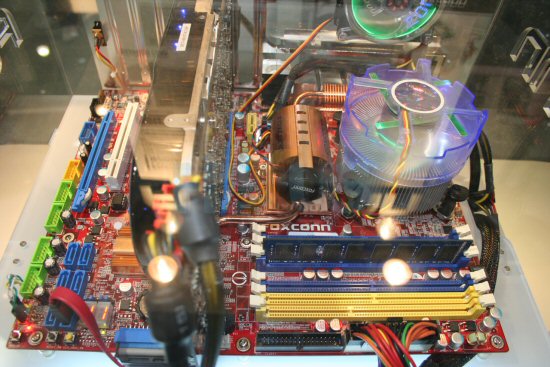 Click for larger image



Multi-graphics also play a key role in that you now no longer have to tie yourself down to an NVIDIA GPU or an AMD - you can go for whichever takes your fancy. Both boards support Core2 Quad and Core2 Duo processors and up to 8GB of DDR2.

[advert]On top of this, the P35A-S comes loaded with ports - one eSATAII, two FireWire IEEE1394a and a massive 10 USB 2.0, plus six SATAII slots and one PATA 133.

You get a bit less with the P35A. This also lacks the P35A-S's RAID capabilities along with Intel Matrix Storage Technology and Rapid Recovery.

Both boards should be in the marketplace now.



" alt="Computex 2007"/>