abit has also been one to jump on the Bearlake X38 bandwagon by showcasing its IX38 QuadGT motherboard.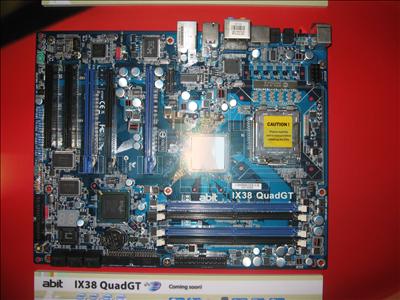 [advert]It's easy for most companies to create mock-up models of a chipset that's not due to be released for a while, we suppose, but abit assures us that the mass-production model won't differ massively from what you see above.

If the AB9 QuadGT's overclocking prowess is anything to go by, the IX38 variant will do well.

abit's choice of cooling solution - heatpipes appear to be the best bet - and, going by the sample, use of DDR2 makes for an interesting board.

Again, no word on price or availability. Our hope is that abit can deliver it to market at the same time as its competitors do; it needs to, judging from certain rumours coming out of Taipei.