The best consumer processor is the Intel Core i7-5960X released in August 2014. Packed with Haswell goodness and equipped with eight cores and a mammoth 16 threads, it's without peer for single-socket computing of heavily-threaded applications.
But unlike its LGA1150 Core i7 cousins, the 5960X's large physical footprint has meant that motherboards have primarily been standard ATX or, at a push, micro-ATX in size.
ASRock is throwing that rule book out of the window by launching a mini-ITX version of the underlying X99 chipset. The X99E-ITX/ac is, as far as we can tell, the world's first board of this ilk.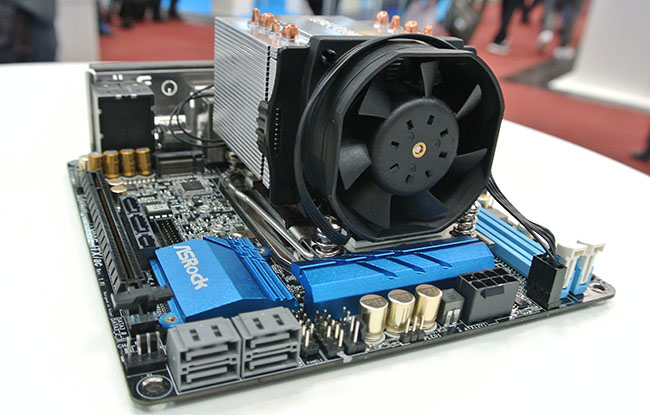 We snapped said board at the ASRock stand during CeBIT 2015. Designing such a motherboard has meant that the company will bundle a special cooler (pictured) that attaches in the same way as server-orientated heatsinks on Haswell-EP Xeon v3 processors, and it's no surprise that this diminutive board supports the very best 18-core Xeons, too.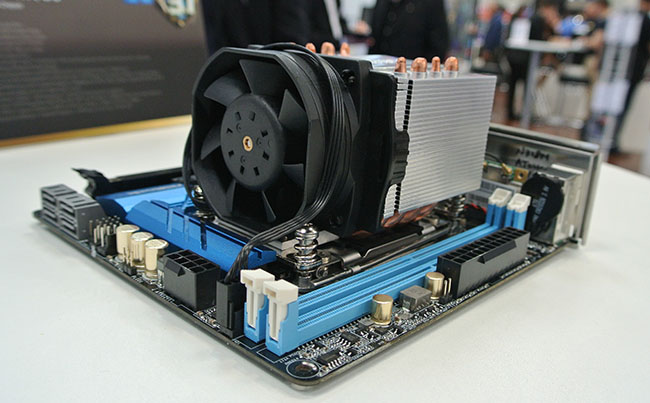 A super-large socket and small PCB translates to spatial sacrifices elsewhere. You'll notice there are only two DDR4 DIMM slots available, halving potential bandwidth, though the cache-rich nature of LGA2011v3 processors means that overall performance shouldn't suffer greatly. ASRock ameliorates the memory bandwidth problem to some degree by specifying 3,000MHz speeds.
Elsewhere, there's six SATA 6Gbps, one SATA Express, eSATA and an M.2 (PCIe Gen3 x4) link to take advantage of fast drives in this nascent form factor.
Other ports include a PCIe x16 for add-in graphics and a mini-PCIe that's populated by a combo Bluetooth 4.0 and 802.11ac wireless chip.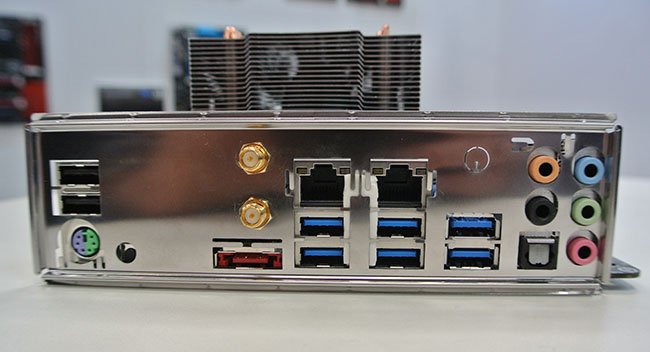 Around back a custom I/O shield provides the usual connectivity options augmented by dual Gigabit LAN, dual USB 3.1 and a further four standard USB 3.0 and dual USB 2.0.
Pair this up with a Core i7-5960X and Nvidia GeForce GTX Titan X for some super-meaty processing in a tiny form factor. Now that would be a Steambox and a half. No word on pricing or availability.