It's been a quiet time for motherboards companies at CeBIT.

We've seen a number of new SKUs that haven't been officially released, such as Intel's Bearlake and NVIDIA's GeForce 7050, and representatives aren't keen on spilling any of the technical beans until given the green light from the respective chipset architects.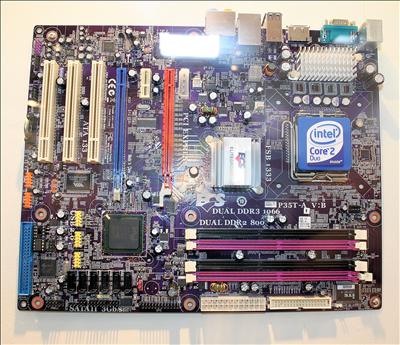 Intel's P35 (Bearlake) chipset will provide support upcoming 45nm processors with 1333MHz FSB support.

Another feature of the chipset is support for DDR3 memory. Most motherboard partners are designing their retail boards with two versions that only differ in terms of memory support - either DDR2 or DDR3.

ECS is hedging its bets by releasing its P35T-A that has support for both memory protocols on the same board. Two slots are dedicated to DDR2, up to a maximum of 800MHz. The second set of slots, unsurprisingly, support upcoming DDR3 memory at a maximum 1066MHZ, so you can upgrade when the price of the new-fangled memory technology drops to sane levels. Of course, you can't run both sets together, but the P35T-A provides some middle ground for those wavering over which version to buy.