Intel is also launching a new range of core logics to complement its Core 2 Duo processors, giving motherboard manufacturers the chance to launch a slew of new motherboards every few months.

Carrying on from the incumbent P965 will be the P35 chipset (Bearlake), which adds in a new southbridge, ICH9/R, and support for upcoming 45nm multi-core Intel CPUs (Penryn) that run off a 1333MHz FSB, as well as AMD's CrossFire multi-GPU technology.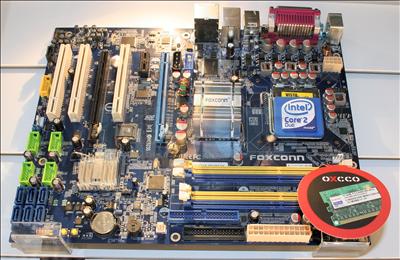 What's particularly interesting about this Foxconn P357AB-8EKRS2H model, is support for DDR3 memory; a feature of the chipset. We've not heard much talk from the prominent memory manufacturers on the likely arrival of DDR3 modules, so, for once, it's a case of chipsets leading memory evolution.

We'll endeavour to find out more when we sit down (read grill) Foxconn's brass tomorrow.