MSI is rather proud of its new Intel X99 range of motherboards. The Taiwanese PC, laptop and components maker emailed HEXUS to let us know that it has broken six world records. These computer performance world records were broken using the MSI X99S XPOWER AC and the MSI X99S SLI PLUS motherboards.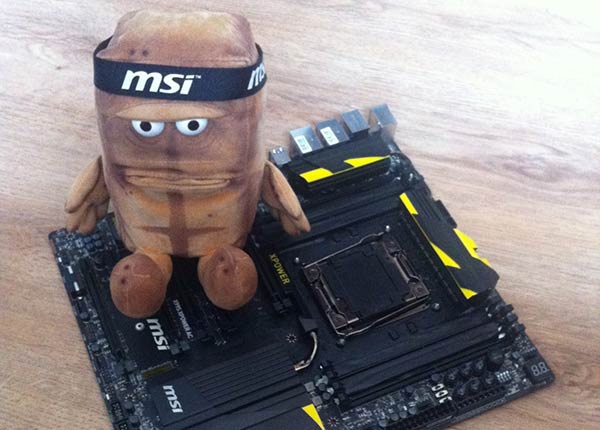 MSI X99S XPOWER AC
The new X99S XPOWER AC motherboard helped MSI capture three new records; Cinebench R15, wPrime 1024m and wPrime 32m. We are told that the previous Cinebench record was "obliterated". The MSI X99S XPOWER AC in combination with an Intel Core i7 5960X processor scored 2314 points in the popular rendering application benchmark.
To snaffle this Cinebench world record overclocker BenchBros pushed all eight cores of his i7 5960X CPU to run at 5931.02MHz. MSI says that's "almost 200 MHz higher than any other X99 motherboard currently on the market".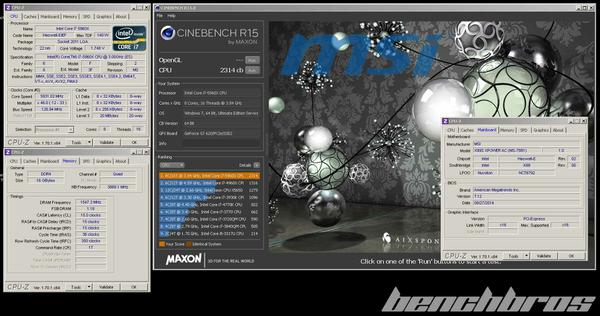 Click to zoom in
The MSI X99S XPOWER AC features lots of overclocking enthusiast features including a new 'OC Backplate' which aids in the mounting of LN2 equipment and 'Delid Die Guard' to help squeeze performance out of a delidded CPU. A next generation OC Engine offers more flexible BCLK adjustments for the highest possible overclocking stability.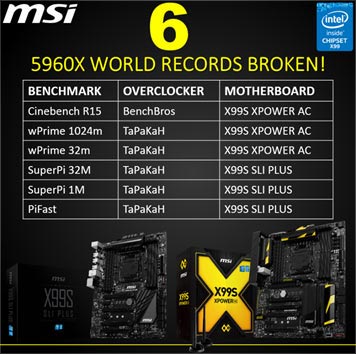 MSI X99S SLI PLUS
The MSI X99S SLI PLUS also reaped its fair share of world records. Overclocker TaPaKaH broke five records in all with MSI's new mother boards, three of them with this X99S SLI PLUS. SuperPi 32M, SuperPi 1M and PiFast records all toppled when tackled with this new MSI motherboard running a Haswell-E CPU at speeds of up to 6354.9MHz.
As you might guess from the name, the X99S SLI PLUS is designed to help enthusiasts build the best multi-GPU Nvidia SLI configuration. It is supported by Gigabit LAN, Turbo M.2., SATA Express, Guard-Pro and Military Class 4 components.