Gigabyte put together a presentation, at its offices in Taiwan last week, showing off the innovations it is aiming to build into its motherboards supporting 4th Generation Intel Core series of processors. The manufacturer demonstrated the G1.Sniper 5 and G1.Sniper M5 motherboards which both feature a Creative Sound Core 3D chip and upgradeable op-amps. Gigabyte plans to integrate this sound concept into further motherboards in the future as the extra cost is "marginal".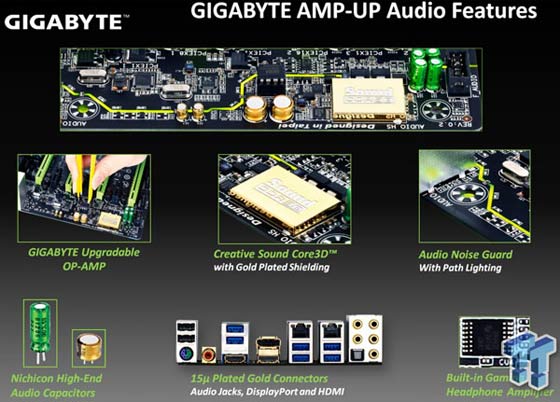 World's first desktop motherboards featuring upgradeable op-amps
At the presentation Gigabyte chose to emphasise the on-board sound of a new range of Z87 motherboards it is readying for the Haswell launch. If you look at the motherboard layouts you will observe that the audio functionality has been "fenced off" by a vivid green line (lit up when powered up) as if to emphasise its separation, a kind of PCB quiet-zone. Gigabyte describes it as the "Audio Noise Guard – with path lighting".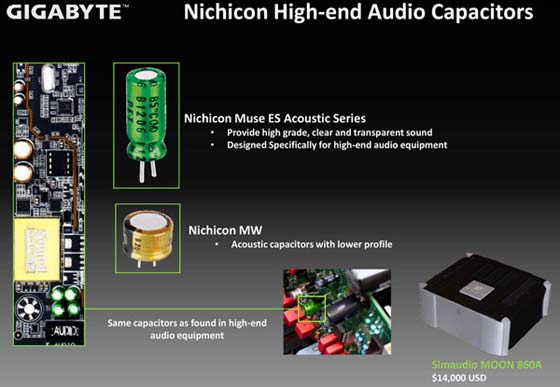 On the G1.Sniper 5 and G1.Sniper M5 the audio components comprise of a gold plated Creative Sound Blaster X-Fi (20k2) Sound Core 3D chip, more importantly all the A/V connectors are gold plated including the HDMI, Coax, Displayport, and the analogue 7.1 audio ports. Gigabyte use Nichicon capacitors which are specially designed for audio applications. Also you have a "built-in gaming headphone amplifier".
As for interchangeable op-amps, these motherboards come with one already installed; a Burr Brown OPA2134 Op-Amp chip, and an extra chip – a TI Mouser LM4562NA. Also you get some special op-amp extractor tweasers. Other op-amps will be available costing between $1 and $20.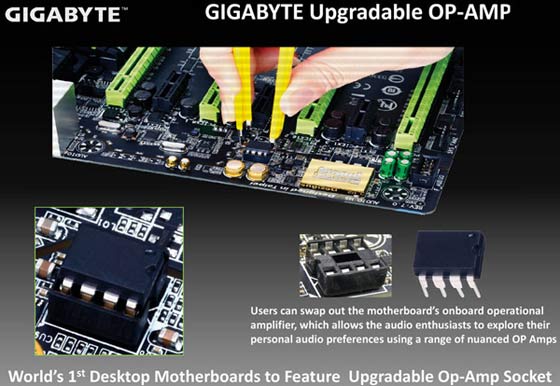 These two Z87 motherboards on demonstration in Taiwan were gaming-orientated models. Gigabyte says more Amp-Up models are in the pipeline "More models to come.... stay tuned". It's good to see a manufacturer put effort into enhancing this often neglected standard built-in motherboard feature.