...with a little help from USI.
On Monday ABIT and USI completed a transaction which saw the ABIT brand and assets transferred to a new joint venture company, called Universal ABIT Co. Ltd. The deal digs ABIT out of a bit of a financial hole, described by them in a press release as "the financial straits which began late Q4 2004."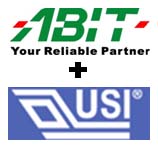 The deal will not just keep the ABIT brand with us, but according to ABIT, allow them to diversify and expand their product range. USI, or Universal Scientific Industrial, is part of the ASE Group, the "world's largest provider of independent semiconductor manufacturing services in assembly and testing". ABIT says that the resource backing and support that USI can provide will help them roll out more products onto the market and increase their competitiveness.
It looks like Fatal1ty branding will stay with us (joy), and expect other new brands to pop up in the near future, as ABIT make good with their new lease of life.
HEXUS.links
HEXUS.pr :: ABIT's press release.