Eagle-Eyed HEXUS readers may have noticed that the web site of PC Partner, one of the few official ATI beta mainboard R&D and testing centres, is listing an ITX form factor, LGA-775 mainboard for Intel Pentium 4 processors based on ATI RADEON XPRESS 200 core logic (ATI RC410 plus SB450).
However, up 'till now, as far as we know, it seems that no image showing the layout of this interesting mainboard seems to have surfaced, but here for your delectation is something we found in one of our (many) Christmas e-Cards...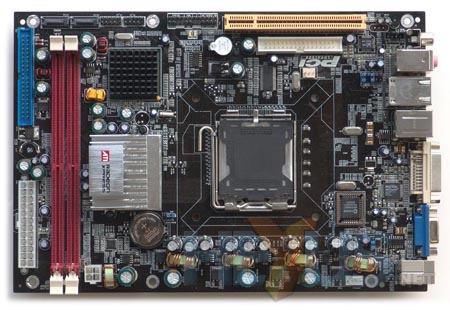 As per the specs on PC Partner's website, the VPU integrated into the chipset is a Radeon X300. With only 1 PCI slot, upgrading is limited, especially in the graphics department, but couple the X300 with a half-decent P4 and you should be able to base a capable media center PC around this board.
Hopefully it won't be long before somebody gets a chance to take this little board for a spin.