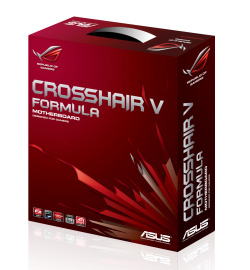 NVIDIA has revealed that is now actively licensing its multi-GPU SLI technology for use in upcoming AMD chipsets.
The surprise announcement, made by NVIDIA director of technical marketing Tom Petersen, confirms the company's plans to make SLI technology available to motherboard manufacturers for integration in upcoming AMD 990FX, 990X and 970 chipsets.
ASUS, ASRock, Gigabyte and MSI have already taken up the offer, and ASUS's Crosshair V Formula (pictured right), is on course to become one of the first AMD motherboards with SLI capabilities baked in.
Commenting on the company's reluctance to offer SLI technology to AMD platforms in recent years, Mr Petersen claimed "AMD's stature as the preferred gaming CPU fell by the wayside and Intel CPUs have been the gamers' choice".
"For this reason, we've only licensed SLI for motherboards with Intel chipsets."
The change of heart suggests that NVIDIA believes AMD's upcoming Bulldozer processors will be considerably more competitive, with Petersen stating that a "competitive landscape" and chants of "SLI for AMD CPUs" has made this "a great time to do it".
SLI technology allows consumers to run multiple GeForce graphics cards in unison, and NVIDIA is believed to be offering dual-GPU SLI licenses to manufacturers of 990X motherboards, with three-way licenses restricted to the high-end 990FX chipset.