It was Gigabyte who used last month's CeBIT show to preview a mainboard solution powered by the upcoming Z68 chipset, and word now has it, that Intel's latest entrant will launch on May 8th.
The Z68 is of particular interest as it's headlined as an enhanced platform for Intel's Sandy Bridge architecture. It apparently builds upon the foundations of the P67/H67, improves overclocking functionality (and associated performance), plus adds to the overall feature set too.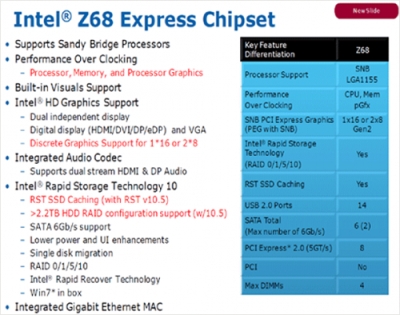 An example of the expanded feature set - with the Z68 positioned most ardently at the high-end marketplace - is RST SSD caching support.
With Z68 billed as a natural companion for Sandy Bridge, rumour has it that solutions may be priced in the same ballpark as current offerings, yet this remains unsubstantiated.