Kicking off CES 2011 in Las Vegas, ASUS is showing off the laptops, tablets and motherboards that'll be hitting the shops later this year.
CEO Jonney Shih started out by outlining how 2010 had been a great year for the company, with its products being given more than 3,000 awards and being named the most reliable portable PC maker by a number of third parties. Of course, this is pretty good for the third-largest portable PC manufacturer, and the largest manufacturer of motherboards.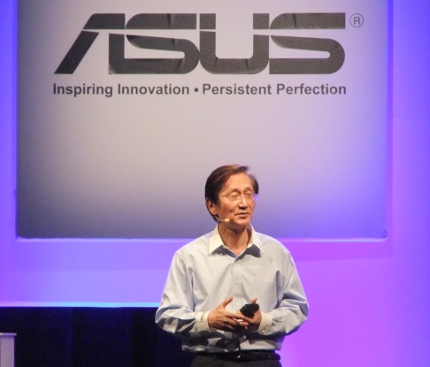 Shen put this success down to the combination of innovation and choice, allowing ASUS to appeal to a wide range of different consumers.
But we were hear to see products, and the first was the new Intel P67-based TUF Sabretooth board which we got a sneak peek at a few months ago.
There are also a whole range of new products in the ROG series. The Black series motherboard will cater to the enthusiast with the Thunderbolt soundcard, while the Vulcan headset will add to the company's gaming headset line, we were told.
But the big announcement was the new EeePad MeMO. This 7in tablet is optimised to use with a stylus and is powered by a Qualcomm processor running Android and capable of 1080p playback. The MeMIC media phone extender will also be available to beam music and phone calls from the handset right to your ears.
Next up was the EP121 which was teased a few days ago. This was described as a 12in no-compromise tablet PC and runs an Intel Core i5 470UM and Windows 7 Home Premium, with a 64GB SSD and 4GB memory to boot. Shen said this is the most-powerful tablet in the world. There's also a Wacom digitizer, a multitouch screen and a wireless Bluetooth keyboard for when you need more than just a tablet.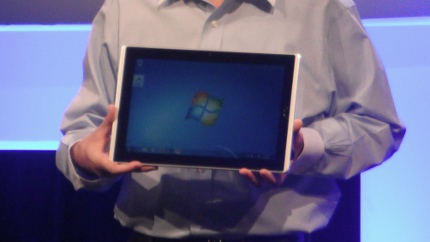 We got to see a quick demo of the tablet in action where some Christmas family photos were edited and manipulated in Photoshop. There were a number of effects added to the picture which seemed to run pretty quickly, all while a 1080p video was playing in the background.
Moving on was the Eee Pad Transformer, a tablet with a detachable keyboard and a claimed 16-hour battery life. The 10in tablet has a 1,280x800px IPS display and is only 12.98mm thick - less than the iPad, apparently. Under the hood is the dual-core NVIDIA Tegra 2 chip which should be able to cut through Flash video and multitasking without any problems. It'll run a custom skin called MyWave on top of Android - which seemed very smooth in the on-stage demo - and will include the ability to stream content to any DLNA devices wirelessly.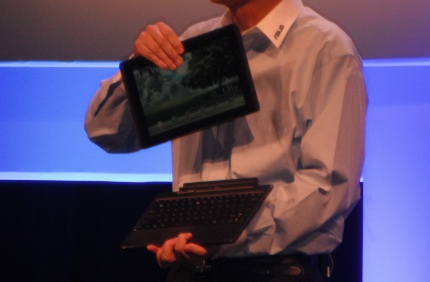 Lastly is the Eee Pad Slider, a hybrid tablet and laptop that looked strangely reminiscent of a Psion 7. Again it'll run on Tegra 2, weigh 886g and measure only 16.7mm thick. The OS will again be Android, and it's confirmed to be the tablet-specific Honeycomb running the same MyWave custom skin. The screen is a 10.1in IPS display, there are a pair of cameras (1.2MP and 5MP) and USB, HDMI and wireless connections onboard.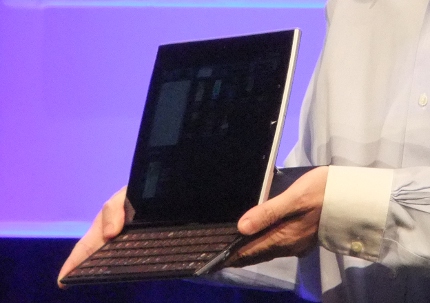 The EP121 will be priced at $999-1099 in January, the Transformer will cost $399-699 in April, the Slider will launch in May for $499-799 and the MeMO will cost $499-699 when it launches in June.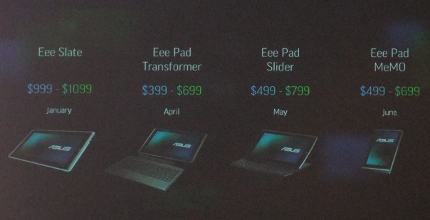 That was it for hardware, but Shen outlined WaveFace, the company's plan to link everything up through the cloud for seamless wireless computing. This is still planned for somewhere down the line, but should link the full range of ASUS products by bringing devices and media together to people wherever they are tailoring the service dependent on where the user is.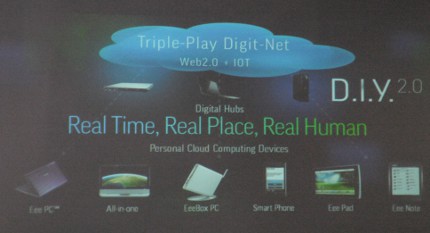 Now looking far into the future was Inspirational Research for Immersive Space - IRIS. The idea is that devices will adapt to your space, rather than you adapting to your devices. This included some pretty crazy PC displays projected on ceilings and a tablet that looked like it came out of Minority Report - and could be physically expanded. Wild.