Most of the news surrounding AMD's Fusion platform has focused on the upcoming mobile chips, but the Bobcat-based Zacate APUs will also be finding a home in low-power desktops and nettops. Apparently Gigabyte will be one of the first companies to launch one of these products, and X-bit Labs has managed to get its hands on some details of the company's upcoming Mini-ITX board.
Despite its size, the GA-E350V-USB3 actually has quite a rich feature set. At the heart of the board is the Zacate E350 APU, which combines a 1.6GHz dual-core processor with a Radeon HD 6310 GPU that packs 80 stream processors running at 500MHz. There's also room for a pair of DDR3 DIMMs and a full-size PCIe x16 slot - although it isn't clear if it's limited to x8 speeds, as with some other boards in this form-factor.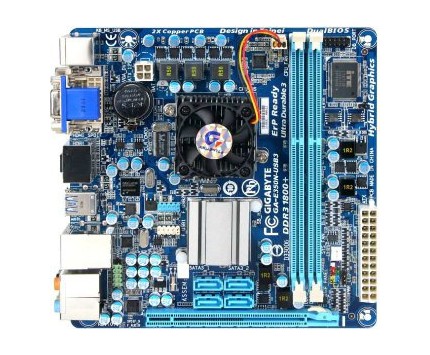 According to the source, it will also support four SATA 3Gbps hard-drives, USB 3.0, VGA and DVI outputs and multi-channel audio. Unfortunately, the chipset lacks a few key features, including gigabit Ethernet and RAID support, meaning that this probably isn't the best fit for a NAS or home server.
Obviously the 18W APU isn't going to be a performance monster, but Gigabyte is including plenty of higher-end features to help owners to get the most out of the system. As well as the presumed ability to overclock the APU, the board supports memory at up to 1,800MHz, high quality capacitors to help keep the board stable and plenty of copper as a part of the Ultra Durable 3 design.
Again, this chip won't exactly blow the doors off, but it could form the basis of pretty capable low-power desktop or HTPC. Gigabyte also seems to have outfitted the board with plenty of features, making it a pretty attractive option for anyone looking to build a Fusion-based system. Unfortunately, there are no details on pricing or availability, but we're sure that there'll be more after AMD launches its processors in the new year.