We're pretty excited about AMD's upcoming desktop processors, and were hoping to get a chance to start testing them out around the middle of next year. It looks like we might have to wait a little longer, though, as the latest rumours are suggesting that the progress of the CPUs might not be going quite according to plan.
The Llano CPUs are destined to take the place of the Athlon II chips in the notebook and mid-range desktop market. The APUs will combine a two, three or four-core CPU with a DirectX11-class GPU in a single 32nm package that should provide quite a bit of power for the conservative power-draw. Even though AMD recently affirmed that it was on track to launch by the middle of the year, X-bit Labs is reporting that the chips might have been bumped back by a few months.
Apparently, trouble with manufacturing the admittedly complex chips has forced the manufacturer to delay full-scale production until at least July of next year. This would make a launch before the autumn very unlikely. However, it doesn't seem that the ultraportable Bobcat APUs are being affected, meaning that they could still launch in the first months of 2011.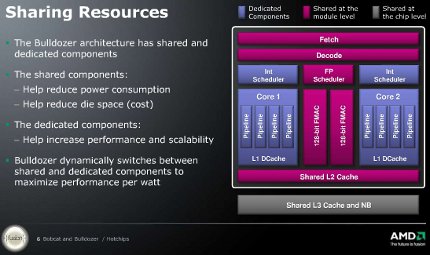 But it isn't all bad news for fans of the green team. X-bit is also reporting that progress on the Bulldozer-based CPUs - codenamed Zambezi and Orochi - has been going well, and that the launch has actually been moved up a little. The report claims that production will start in mid-April start, meaning that they could arrive ahead of the Llano parts. It has also been suggested that we could find out more exact details at an analyst day scheduled for the coming week.
Though the high-end desktop and server chips don't contain an integrated GPU, they are based on a completely new architecture. As well as featuring a bevy of performance and power-saving features, the new CPUs could be the first octa-core desktop processors on the market.
Any delays to AMD's product lines - especially in the mainstream, where the company has traditionally been quite competitive - could cause it to lose even more ground to the upcoming Sandy Bridge CPUs, especially if rumours of Intel's aggressive plans turn out to be true.