Intel's Silverthorne CPUs - known colloquially as the Atom Z500-series - have appeared in a few MIDs and netbooks, but have largely failed to gain much traction, especially in tablets. One of the rumoured explanations for this is that some manufacturers are waiting for its CPU successor, Lincroft, as a part of the Oak Trail platform.
Speaking at IDF, Intel's Doug Davis went into a little more detail about the upcoming silicon. The SoC (system on a chip), which will run Windows 7, Android and MeeGo - among other OSes - is primarily designed for tablets, smartphones and other lightweight, mobile Internet-connected devices.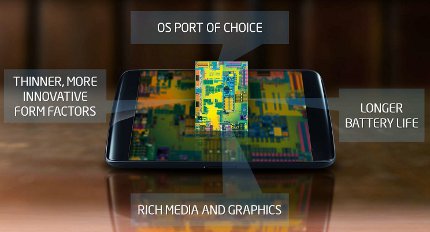 Two devices featuring the chips were shown at the presentation. The first was a standard-looking tablet that was able to smoothly play back a 1080p video clip without any stuttering. The second was referred to as five-inch "Windows-based gaming system", though no further details were divulged.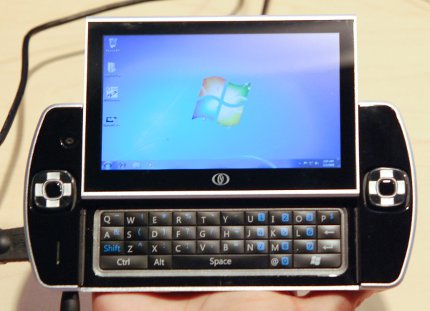 While specifics were thin on the ground, there were two key take-home messages from the presentation. The first was that the Atom Z600-series processors will be significantly more powerful than the existing Silverthorne CPUs despite very low power-requirements. This means that they could be an ideal fit for upcoming tablets.
The other point was that the new platform controller hub - codenamed Whitney Point - includes PCI support, which will enable Windows support. While the Moorestown platform as originally announced - of which the Z600-series is also a part - removed this feature (it uses the Langwell IOH) to reduce idle power usage, this new variant should allow the chips to find a home outside of smartphones and more-basic MIDs.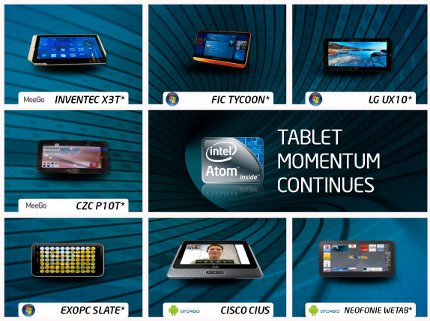 Devices based on Oak Trail should start appearing in the first half of 2011, with OEMs including ASUS, Samsung, Acer, Dell and Toshiba specifically said to be working with the new platform.