Intel has reached an important milestone in its quest to bring Silicon Photonics to the mainstream by creating the world's first silicon-based optical data connection with integrated lasers.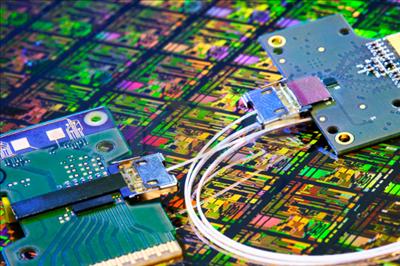 The connection, dubbed the Intel 50G Silicon Photonics Link, can move data at a rate of 50 billion bits per second (50Gbps) and is being positioned as the next-generation successor to today's widespread copper cables.
Building on the breakthroughs of recent years, the 50G Link consists of a silicon transmitter and a receiver chip; both of which utilise previous Intel innovations including the 2006 Hybrid Silicon Laser and high-speed optical modulators and photodetectors from 2007.
Bringing the building blocks together, the 50G Link - described at this stage as merely a "concept vehicle" - is able to provide ultra-high-speed data transfers on fibre cables that are typically thinner than a human hair.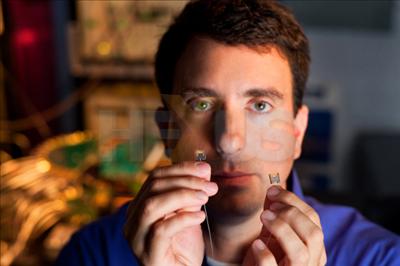 Commenting on the announcement, Intel's director of the Photonics Technology Lab Dr. Mario Paniccia states that Silicon Photonics is "not a technology that we [Intel] think is 10 years out", adding that he expects to see commercialisation in three-to-five years.
How does it work?
Digging into the science behind the Silicon Photonics Link, Intel's solution comprises of two key components; the transmitter and receiver chips.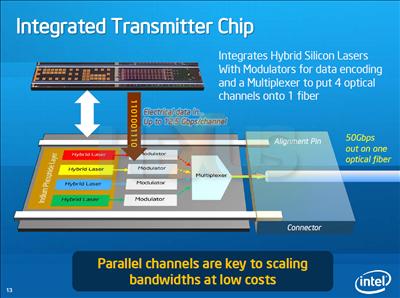 The transmitter chip, depicted above, is built on the foundations of the Hybrid Silicon Laser.
Created in collaboration with the University of California, Santa Barbara, the Hybrid Silicon Laser - itself built by bonding Indium Phosphide and Silicon through a low-temperature plasma-enhanced oxidation process - is able to channel the light-emitting capabilities of Indium Phosphide through silicon waveguides.
Using four Hybrid Lasers on a single transmitter, each of which generates four different wavelengths in four different colours, the chip sends the data to four high-speed 12.5Gbps optical modulators that then couple the four channels onto a single 50Gbps optical fibre.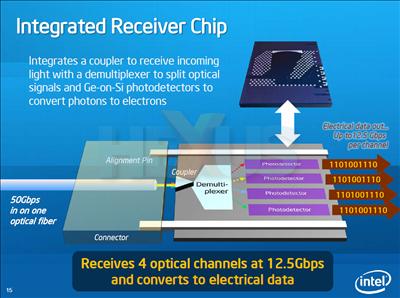 Once received by Intel's receiver chip, a demultiplexer splits up the four wavelengths into their four original channels/colours, and silicon germanium photodetectors then convert the signal back to electrons and electrical data.
Is it feasible?
Using lasers to transmit information isn't an entirely new process, of course, but current implementations are expensive to produce and therefore not applicable to mainstream use.
Expecting to overcome the issue of cost, Intel's solution is built using low-cost silicon, with the current prototype chips fabricated on a standard PCB at an existing Intel plant in Israel.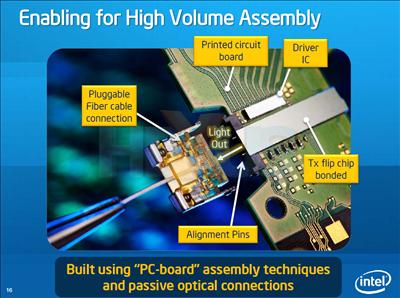 Suggesting that costs won't be the determining factor, Dr. Paniccia states that the current challenge in Silicon Photonics is reliability.
Intel doesn't see any fundamental issues, but adds that the technology hasn't yet been rigorously tested.
What does the future hold?
Intel's vision of the future is one in which optical connections replace today's copper cables.
The implications of such a change are obvious for data centres and servers, but Silicon Photonics could revolutionise computing in numerous other ways.
Despite admitting that it's currently very difficult for optical links to replace copper traces over short distances (less than six inches), Intel's keen to point out that Silicon Photonics could one day change the way in which everyday computers such as notebooks are designed and created.
For instance, why keep your motherboard's north and south bridges close together when a high-speed link permits them to be located freely? The implications in terms of system cost, cooling and design and certainly intriguing.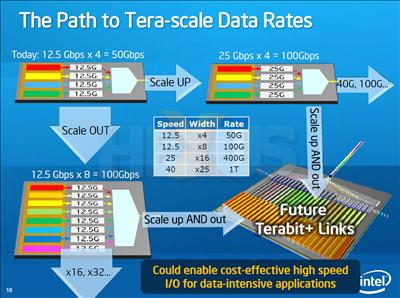 There's also a small matter of speed. Lightpeak, an Intel interconnect scheduled to launch later this year, will provide transfer rates of 10Gbps.
Silicon Photonics is the next generation, and, priced in the "same ball-park" as Lightpeak, is expected to go way beyond the 50Gbps being prototyped today. Scaling up, Intel predicts that the speed of each optical modular will rise exponentially, and there's nothing stopping the technology from growing wider through the addition of more Hybrid Silicon Lasers to each chip.
If Intel's ambition of a Terabit link does come to fruition, you could be backing up your entire PC in under a second.