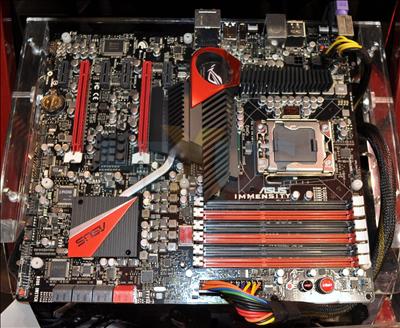 The ASUS COMPUTEX bandwagon keeps on rollin' with the rather grandiose-sounding Immensity motherboard.

Immensity is a concept Intel X58 chipset-based motherboard that's, well, rather immense from a PCB viewpoint. The board ships with a few eyebrow-raising features that are revealed as the heatsinks are removed.


Immensity ships with the two chips that make up the X58 chipset - middle and right - and then two further chips around the PCIe slots. The one in the middle is a LucidLogix Hydra SoC, designed to provide vendor-agnostic support for two-card graphics setups. Rather plainly, it will provide the necessary hardware for you to run NVIDIA and ATI cards in tandem, made possible by a special driver. The Hydra chip, whilst cool, isn't altogether new.

Notice the ATI-labelled chip in the middle? It's an integrated Radeon HD 5450 GPU, complete with an HDMI output, which, ASUS says, can be used to boost the performance of any add-in card, presumably via the aforementioned Hydra chip. Let's term this SLIFire.

If that doesn't razzle dazzle your fantazmagazzle, the ROG board can be overclocked via an iPhone. Now where's that kitchen sink, because it seems to be the only thing missing.