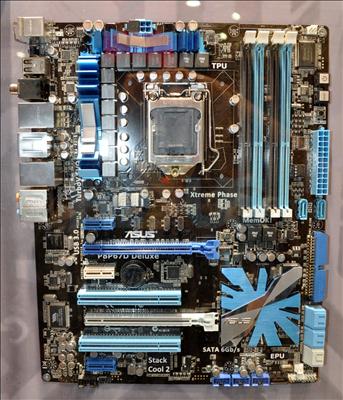 Recognise the motherboard? Take a closer peek and you will see that it's an ASUS P8P67D Deluxe. The nomenclature tells us that it's an upcoming motherboard that will support Intel's next-generation Sandy Bridge CPU architecture.

Based on 32nm technology, Sandy Bridge uses the incumbent Westmere process but adds to it via the implementation of Advanced Vector Extensions (AVX) - from 128-bit to 256-bit registers - and a smattering of other as-yet-unreleased goodness.

The mainstream Sandy Bridge CPUs, based on an LGA1155 form factor, will feature quad-core, eight-thread processing and a next-generation graphics core - all backed by 8MB of L3 cache and, presumably, on one die. ASUS' board shows us that the chip will use a dual-channel memory-controller, much like today's Core i5/Core i7 CPUs, but the change in silicon will require a new 6-series chipset.

Sandy Bridge is destined to go up against AMD's Fusion APU parts in 2011, and we wait with bated breath to see who comes out on top in the mid-range space.