There's something about LucidLogix's HYDRA technology that continues to kindle our interest.
Perhaps its the thought of rival AMD and NVIDIA GPUs getting cosy together, or the ability to run multi-GPU configurations without any CrossFire or SLI restrictions.
However, for all the reasons to like the technology, there's been another to stay away; cost. One of the first boards to feature the Hydra chip - MSI's Big Bang Fuzion - fetches close to £300 at retail, whilst upcoming boards such as ASUS's Crosshair IV Extreme are expected to be priced at around £200.
If you're eager to dip into the Hydra experience, however, MSI's preparing something that might tickle your fancy.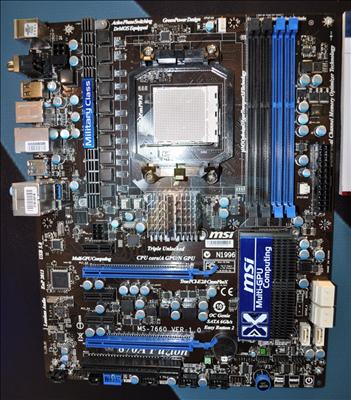 Dubbed the 870A Fusion, this upcoming board makes use of AMD's 870 + SB850 chipset, and features the Hydra chip for cross-vendor multi-GPU action.
What's interesting is that the board will become available next month priced at £150 or less, making it the cheapest Hydra-powered board on offer.
For that tidy sum, the end user will be getting a useful selection of features; including SATA 6Gbps, USB 3.0, support for hexa-core Phenom II X6 CPUs, and two PCIe x16 slots capable of running NVIDIA and AMD GPUs in harmony.
Sounds mighty useful, but have recent driver improvements enabled the Hydra chip to fulfil its promise of near-linear performance scaling? Only time and benchmarks will tell.