ASUS has made available a few preview images of its upcoming Rampage III Extreme motherboard.
Arriving as a successor to 2008's Rampage II Extreme, the X58 board has its sights set on the enthusiast market and brings a number of useful upgrades to the table.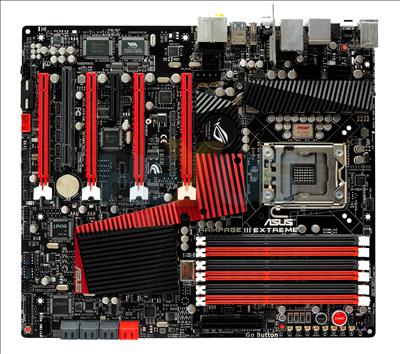 ASUS has yet to divulge the board's complete specification, but if you're looking for a perfect partner for the world's fastest desktop CPU - Intel's Core i7 980X - the images suggest this could be it.
Making use of Intel's X58 chipset, the board features an LGA1366 socket supporting Intel's high-end Core i7 CPUs and all the goodness of the Nehalem architecture - including tri-channel memory and a QuickPath interconnect.
What's new is that ASUS has added both USB 3.0 and SATA 6Gbps to the mix, and the board somehow manages to provide four PCIe x16 slots, as well as a single PCIe x4 slot and a standard PCI slot, too. We're presuming NVIDIA's NF200 chip is on hand to help feed the array of expansion slots, and a PLX bridge is likely to be providing the bandwidth to the USB 3.0 and SATA 6Gbps interfaces. Quad SLI, anyone?
The new-look heatsinks are visually impressive, and as you'd expect from a Republic of Gamers board, there's no shortage of overclocking functionality, including ASUS's own external tweaking tool, ROG connect. Overclockers can also look forward to what appears to be a CPU VRM powered by two eight-pin ATX connectors, and a pair of molex connectors which we presume are in place to provide extra juice to the PCIe slots.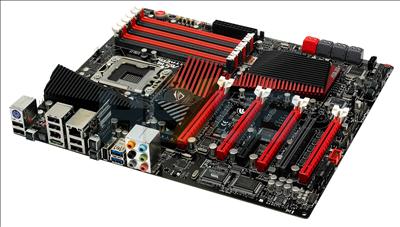 ASUS tells us the official specification, pricing and availability is imminent, but the Rampage III Extreme clearly isn't for the faint hearted.