A couple of leaked AMD roadmaps have surfaced over in Japan, hinting at what the semiconductor giant will have to offer in the coming years.
In terms of desktop platforms, it looks as though AMD won't be able to deliver 32nm CPUs until 2011 - putting it roughly a year behind rival Intel, who plans to introduce 32nm parts in the first quarter of 2010.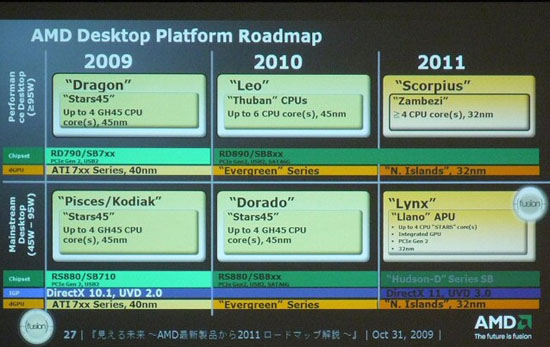 Looking at the coming year, AMD's challenger in the performance stakes will be the upcoming hexa-core Thuban processor, apparently clocked at 2.8GHz and coupled with an RD890+SB8xx chipset. In the mainstream space, 45nm Athlon and Phenom processors with up to four cores will hope to be more competitive when paired with the 800-series chipset.
In terms of graphics, AMD's Evergreen series - already productised in part as the Radeon HD 5800 series - will remain prevalent throughout the year, and won't be superseded by a newer architecture until 2011.
Indeed, it isn't until 2011 that AMD's desktop roadmap begins to get interesting. That's the year in which we'll see Scorpius, a next-gen platform making use of the 32nm Zambezi processor - which, we can only hope, is based on the long-awaited Bulldozer core, successor to the K10 architecture.
2011 will also see the arrival of Northern Islands, AMD's next-generation 32nm GPU architecture, as well as the introduction of a DirectX 11 IGP - available as part of the Llano accelerated processing unit (APU), a 32nm "Fusion" chip featuring a multi-core CPU with integrated graphics.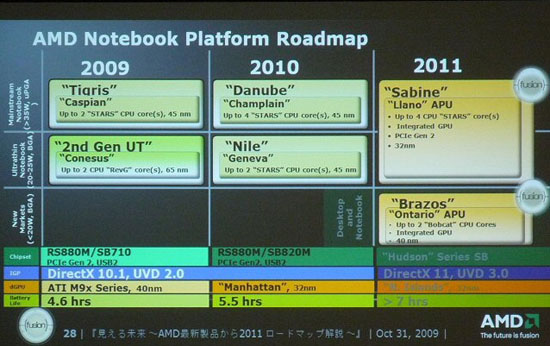 On the notebook front, one of the more intriguing revelations is the Manhattan line of GPUs on course for 2010. Although details on the roadmap are slim, it seems Manhattan could be a 32nm die-shrink of Evergreen, bringing DirectX 11 goodness to high-end notebooks. The roadmaps make no mention of a die shrink for desktop Evergreen products, but it isn't outside the realms of possibility.
Once again, it isn't until 2011 that AMD's notebook offerings become noteworthy. The 32nm Llano Fusion APU that's destined to serve mainstream desktops will also power high-end notebooks, whilst Bobcat - a processor designed to compete in the sub-20W space - will power ultra portables as part of the Brazos platform.
That's a whole lot of codenames to sink your teeth into, but it's a good look at what AMD will have to offer in the coming years.