MSI has been teasing its gamer-orientated Big Bang line of motherboards for over a month now, but the series is officially launching today with the introduction of the Big Bang Trinergy.
The first Big Bang series board, pictured below, makes use of Intel's P55 platform and claims to be "inspired by the mighty Big Bang". No, really, MSI reckons "the all-new Big Bang series will deliver the shock and awe of unprecedented experiences and expand into its own collection of galaxies".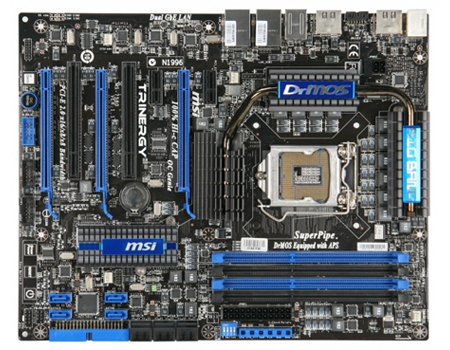 We're not sure if the board is enough to change the universe, but it is packed with an arsenal of high-end features - including an NVIDIA NF200 chip used to facilitate a trio of PCIe x16 slots for for three-way SLI configurations.
Elsewhere, there's "QuantumWave" audio processing with support for THX TruStudio PC and Creative EAX Advanced HD 5.0, and overclockers are catered for, too - Trinergy is bundled with an external OC Dashboard and MSI's chip-driven OC Genie auto-overclocking feature.
There's no word on pricing or availability yet, and the board you really want to see - the Big Bang Fuzion equipped with LucidLogix multi-GPU HYDRA technology - is still on course to be "revealed before the end of 2009".