Core i5 for the Republic Of Gamers
We've already seen mainboards with Intel's P55 chipset from a number of the industry's big names, including the likes of GIGABYTE, J&W, Biostar, MSI and ASUS.
The latter, however, is now raising the bar by showing off its Maximus III Formula - a higher-end P55 board that'll provide support for Intel's next-generation Nehalem-derived desktop chips codenamed Lynnfield, and believed to be productised as Core i5 when they arrive later this year.
The Maximus III Formula, pictured below, will take its place as part of ASUS' Republic Of Gamers (ROG) range and will be targeting the overclocking crowd with its expected array of high-end features such as Voltiminder LED, iROG and ROG-Connect. Let's take a look.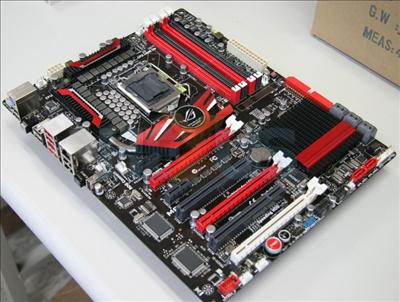 At first glance, the board looks sumptuous and the age-old red, black and white styling will give gamers little to criticise when it comes to aesthetics.
Onboard is an LGA1156 socket, supporting 45nm Lynnfield and 32nm Clarksdale processors, and a menacing array of capacitors. Alongside the CPU socket are four dual-channel DDR3 memory slots, that's one channel less than the ultra-high-end Core i7, of course.
The Maximus III Formula features a trio of well-spaced PCIe x16 expansion slots - highlighted in red and white - but ASUS is yet to specify which multi-GPU setups are supported, as well as per-lane speeds when multiple slots are populated. Rounding off the board's range of expansion options are two PCI slots and two PCIe x1 slots - one of the latter, presumably, will be used with a bundled ASUS sound card.
The board's heatsinks and heatpipes all lay low, providing adequate room for third-party CPU heatsinks, and ASUS' I/O should have most users covered with an array of ports consisting of Ethernet, USB, FireWire and eSATA.
Seems to have most features covered, but there's no sign of support for Intel's Braidwood memory acceleration and there's an Open NAND Flash Interface that could mean support for Intel's Braidwood memory acceleration - well spotted by HEXUS.community reader kalniel.
ASUS, as expected, is keeping pricing under wraps at this early stage, but we've a handful of additional pictures to examine over on page two.