Remember the unusual NVRAM slot we've been seeing on 'Ibex Peak' P55 and H57 boards here at COMPUTEX? Well, we've tracked down Intel and confirmed that the slot is indeed used for Braidwood memory technology - confirming that Braidwood will be made available later this year with the launch of its Core i5 processors, codenamed Lynnfield.
So, what's Braidwood and why does it matter to you? Well, as mentioned previously, it can be thought of as Turbo Memory on steroids and it provides dramatic I/O acceleration to speed up all-round system performance. Think of it as a super-quick cache, acting if you will like a board-mounted SSD to provide rapid access to files and applications.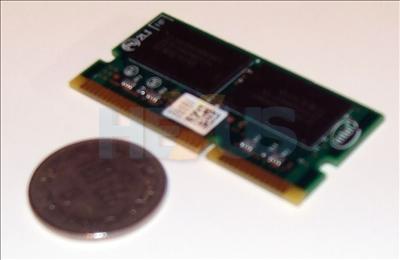 The Braidwood flash memory module, pictured above, will slot into NVRAM slots found on Intel's Ibex Peak boards - beginning with P55 later this year. Intel isn't yet quoting capacities for its Braidwood modules, but we're led to believe they'll reach up to 16GB in size.
We're looking forward to mainstream Nehalem as much as the next guy, but Braidwood - we reckon - will provide the performance boost most will recognise. SSD-like performance isn't to be sniffed at, and we'd expect Braidwood to make its way into Core i7 boards somewhere down the line, too.