The HEXUS team managed to get an exclusive look at some early 790GX motherboards from Biostar at COMPUTEX last month. With the 3DMark figures we were given, we weren't entirely sure how AMD had managed to squeeze out such a significant gain in performance, but our interest was piqued.
Move forward a month and we've now got a pair of leaked slides from CHW.net detailing some of 790GX's features and benchmarks: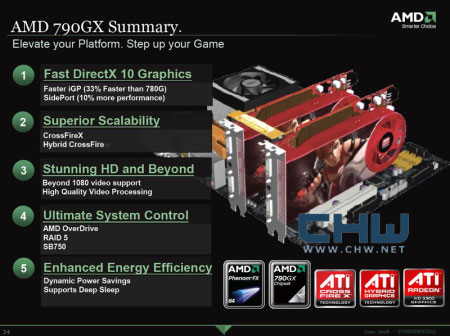 As you'd expect, AMD's slides boast a substantial performance increase over the 780G. The Radeon HD 3300 IGP promises to be 33 per cent faster and the built-in SidePort memory modules are said to offer a 10 per cent boost.
The benchmarks, encompassing four popular titles, compare 790GX to NVIDIA's GeForce 8200 and Intel's G35. As the slide shows, there's clearly only one winner.
AMD is already giving NVIDIA a run for its money in the dedicated graphics market, 790GX should do likewise on the IGP front when it lands later this month.
Related reading
Biostar showcases unannounced AMD 790GX chipset: the best IGP yet