Graphics integrated on to a motherboard have come a long way recently.

AMD launched the 780G chipset three months ago and its IGP, the Radeon HD 3200, provided full DX10 support along with excellent connectivity options and provision for hardware-accelerated high-definition decode of, in the main, Blu-ray and HD DVD content.

The chipset also provided Hybrid CrossFire support, where the onboard IGP could be paired with a low-end discrete card of the same generation - Radeon HD 3K - and both used in a concurrent rendering fashion for extra frame-rates.

NVIDIA's been late to the market with its response, but we're now seeing AMD-based boards trickle through with GeForce 8200/8300 graphics - again toting DX10 compatibility and (broadly) the same multi-GPU ability (SLI, of course) and decode help.

NVIDIA will release the Intel equivalent, GeForce 9xxx, in due course, too.

Our IGP-based overclocking revealed that AMD had been rather conservative with the Radeon HD 3200 IGP's clock, set at 500MHz. Indeed, testing showed that it scaled to 750MHz with consummate ease, and it was only a matter of time before another chipset was released with boosted performance and multi-GPU capabilities.

That chipset is the 790GX, and Biostar was one of the very few manufacturers to have it out on show, so let's take a look.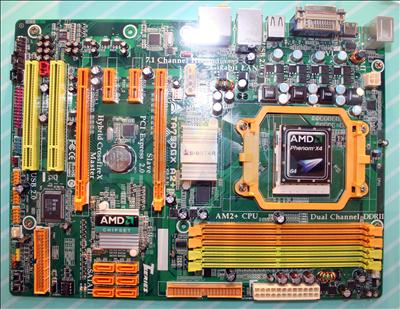 It had two variants on display, with both supporting performance-enhancing SidePort memory modules, located just below the northbridge.

The TA790GX A2+, pictured above, carries the 790GX and SB750 combination. The new southbridge was supposed to debut with the 780G, and we may well see other manufacturers roll it in quietly.

SB750 brings with it improved RAID support, and, according to the product specialist we spoke to, a method of better overclocking the Phenom CPUs, although this sounded sketchy at best.

The northbridge, 790GX, adopts the Radeon HD 3300 IGP that's clocked in at 550MHz on the Biostar model; some way below what we were expecting.

A 64MiB DDR2-800 SidePort DRAM is added for more performance.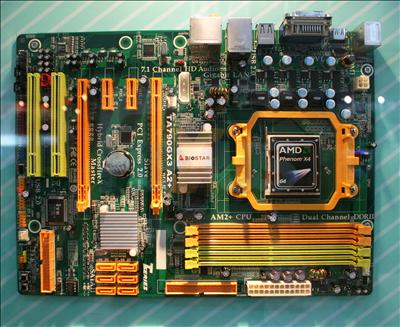 The other board, TA790GX3 A2+, is practically the same, save for a 128MiB SidePort DRAM. As the board's name suggests, it's GDDR3 memory operating at 1,066MHz.

As a guide, a SidePort-enabled 780G scores around 1,700 marks in 3DMark06. The DDR2 790GX is reckoned to produce around 2,200 and the GDDR3 version around 2,400.

We're not entirely sure were the extra performance is coming from, because the conservative core increase certainly doesn't merit such a gain.

Whatever the case, 790GX will continue to give NVIDIA's IGPs a very hard time when it's officially released next month.