A teaser image of a Gigabyte Aorus TRX40 motherboard has been shared. Though no official information has been released yet, it is thought that the new motherboard has been designed for the AMD Threadripper 3000 series of processors and will utilise a new TR4+ or TR+ socket. The socket in the image looks a lot like the TR4 which supports Threadripper 2000 chips but there has been no word on backwards or forwards compatibility as yet.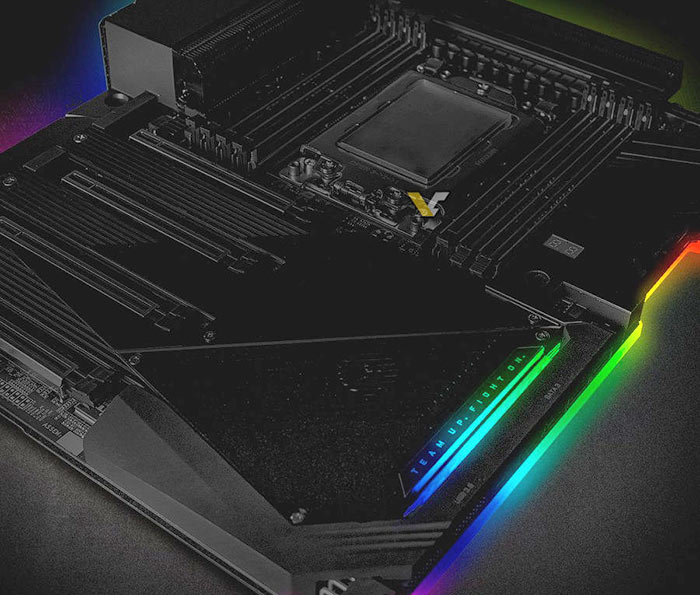 Looking closer at the image sourced by VideoCardz, we can see this is an E-ATX motherboard, it sports eight DDR4 slots flanking the CPU socket, there are four PCIe x16 slots, there is a debug dual-digit LED display, and the large chipset cover has an integrated fan and at one edge RGB LED lighting, here highlighting the 'team up - fight on' slogan.
In an earlier VideoCardz exclusive story it revealed that AMD will launch the first Threadripper 3000 processors and TRX40 motherboards on Tuesday 5th November, with sales and reviews starting a fortnight later, on 19th November. An initial pair of Threadripper 3000 chips to become available will be the 3960X, 3970X. A more powerful Threadripper 3990X (possibly 64C/128T for consumers), with TRX80 and WRX80 motherboards, is tipped for release in January 2020 but we should hear more about this (and perhaps a 3980X) at the 5th November event.
It is only a fortnight and a day until the official reveal of the above 7nm processors and supporting platforms. Remember, AMD has delayed the 16C/32T Ryzen 9 3950X processor for release during the same event.