MSI is preparing to launch its Intel Eaglelake P45 series of mainboards, starting with the P45 platinum, a board we took a look at earlier this month.
One of the board's key features is DrMOS, a complete re-design of MOSFET, integrating Hi and Lo-side MOSFETS and a driver into a single package.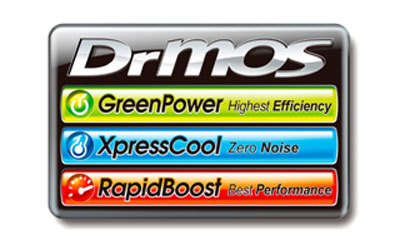 Today, MSI has expanded on what DrMOS will provide, and what to expect from its P45 bios, stating:
"Besides following just the Intel specs MSI has implemented MSI DrMOS on its P45 mainboards: a bundle of smart hardware and software features. Amongst others, MSI DrMOS' RapidBoost delivers you extra tools in the BIOS to enhance the overclocking possibilities of MSI P45 mainboards such as: Memory-Z, Multi-step OC Booster, Extreme voltages, extended HELP function ClockGen Tuner and Advanced Memory timings."
The following comprehensive breakdown is taken from MSI's official release:
Memory-Z
Everybody is familiar with the Windows program CPU-Z, which provides detailed memory information. Only disadvantage it has is that you need to go back to the BIOS to tune your memory settings for overclocking. MSI is the first to include this feature in the BIOS itself: MSI Memory-Z. With MSI P45 series you can view detailed memory information directly in the BIOS, including all Intel XMP settings. From now on you do not need to switch back to Windows. Just press F5 in the BIOS to see it all!




Multi-step OC Booster
Enthusiasts who overclock know that your bios might crash and that you will have to reset the CMOS. MSI P45 DrMOS BIOS fixes this with the Multi-step OC Booster. This will enables overclocking only after
you exit the bios and boot the OS.

Disabled = Normal procedure, apply OC settings during POST
Mode 1 = Load the OS then apply the OC settings. No OC during POST
Mode 2 = Slight OC during POST and then apply full OC when loading the OS




Extreme voltages
Due to the balanced 2-phase memory chipset power design, you can tune your system with extreme voltages. MSI P45 BIOS offers more than 128 levels of voltage controle. The increments for the CPU are in small steps of 12.5mV and for the memory and chipset in 10mV increments.


Extended Help function
Everybody knows the empty help screens in the BIOS, which is horrible for users. What is the use of having many advanced options in the BIOS without knowing the exact effect? The new BIOS for MSI P45 has an extended BIOS Help function. MSI includes detailed help instructions in their bios.


ClockGen Tuner
The MSI P45 BIOS gives you the possibility to tune the clockgen. To shape the clockpulse to synchronize signals in order to get higher and more stable overclocking results. Die hard tweakers also have the opportunity to tune the clockgen chip.



MSI's P45 Platinum looks the part on both hardware and software fronts, but, as we've mentioned before, performance is all important. We'll be seeing plenty more P45-based boards coming out of COMPUTEX next week, and we'll be taking a much closer look at them all.
Related reading
Early look at MSI's P45 Platinum