Questions about PC hardware support aren't always straightforward, and this is proving very much to be the case with regard to X400 Series motherboard chipsets and support for Ryzen 3000 processor features such as PCIe Gen 4.
As Computex was drawing to a close AMD's senior technical marketing head, Robert Hallock, took to Reddit to clear up rumours concerning the above. Hallock stated that "Pre-X570 boards will not support PCIe Gen 4," despite some tech news and social media chatter he had observed during Computex week. This included screenshots of updated BIOS UIs from AMD 300 and 400 series chipset motherboards which allowed the user to toggle various PCIe slot generation options, including PCIe Gen 4. Hallock went on to say that such options were present in non-final BIOS updates and would be removed going forward.
The reason for AMD suggesting this. Or pushing for it, is that "There's no guarantee that older motherboards can reliably run the more stringent signalling requirements of Gen 4, and we simply cannot have a mix of 'yes, no, maybe' in the market for all the older motherboards," explained Hallock, adding that "The potential for confusion is too high... the risk is too great."
Now it looks like some manufacturers, like Asus, disagree with AMD's idea that generational hardware support should be a simple yes or no, across chipsets. The AMD Ryzen 3000 processors offer 16 PCIe 4 lanes for graphics cards and four more lanes for M.2 NVMe SSDs, and it seems that these are partly usable with a new BIOS applied to various Asus motherboards with the X470 and B450 chipset.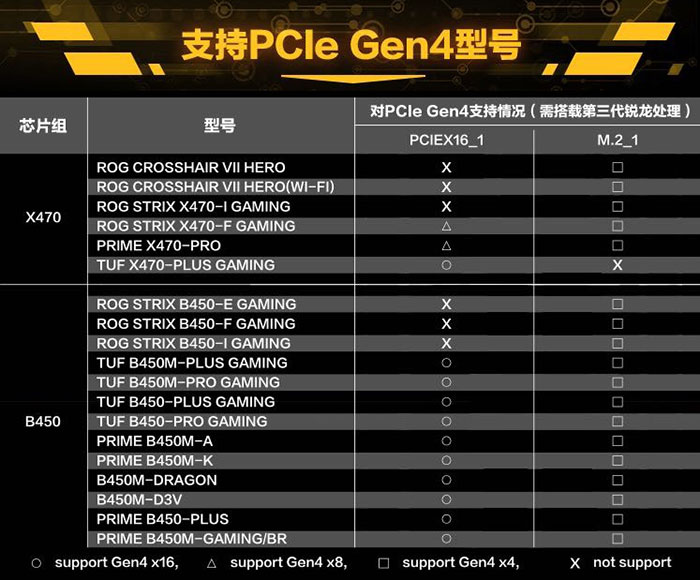 Momomo_US and ComputerBase.de share some motherboard charts that are said to come direct from Asus sources in Asia, showing exactly the levels of compatibility on offer. If you look at the table above, you will see that compatibility is pretty good especially with regard to M.2 storage. Strangely the enthusiast X470 boards fare less well than the B450 boards, many of which can use both PCIe Gen 4 add-in cards and PCIe Gen 4 storage, according to the table.
Some testing of the above Asus motherboards has already been undertaken. ComputerBase reports that Chinese site MyDrivers tested a PCIe Gen 4 SSD on the TUF B450M-PRO Gaming. This setup reportedly achieved around 5.0GB/s reading and 4.2GB/s writing performance, similar to what you might expect for an X570 motherboard with PCIe Gen 4 M.2 SSD combo.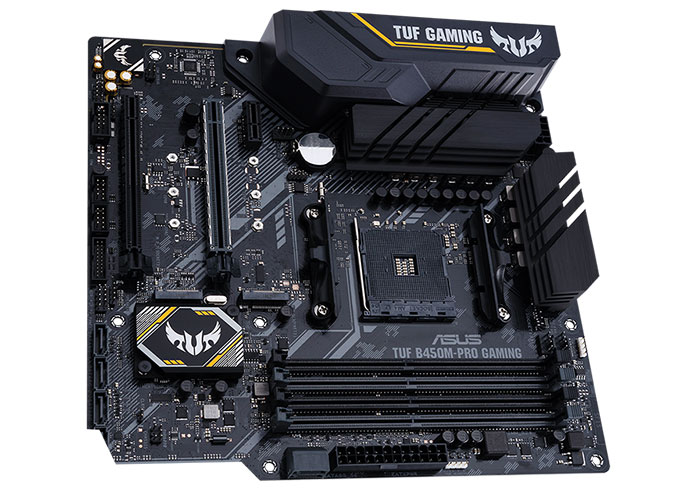 It is going to be interesting to see how this develops - whether AMD's motherboard partners wish in some ways to cannibalise their own X570 motherboard market - but on the upside, to earn enthusiast favour.