The launch of the AMD 3rd Gen Ryzen CPUs occurred just a few hours ago and motherboard partners are already jockeying for your attention. A wide range of new motherboards will soon be available and big-hitters Asus, Gigabyte and MSI have detailed numerous offerings in the race for your eyeballs, and ultimately your $£€s.
One of the major appealing qualities of your new AMD X570 motherboard will be its PCI Express 4.0 connectivity. Already we have seen Corsair advertising an M.2 SSD drive to provide nearly 5GB/s transfers (and Gigabyte teased one last week). The theoretical max bandwidth of a four-lane PCIe 4.0 device on the X570 platform is 7.9GB/s. When we look at graphics cards, a future card design sitting in an x16 slot would have nearly 32GB/s of bandwidth available.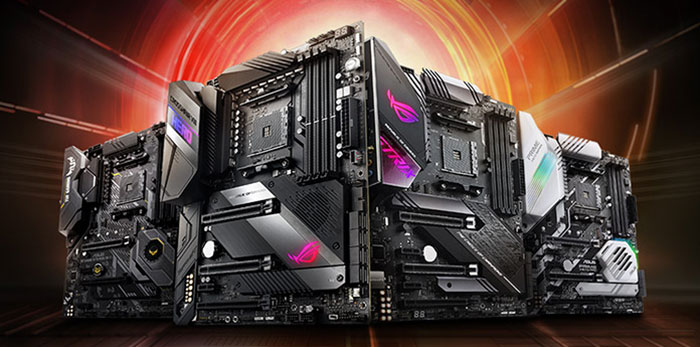 Asus and Asus ROG X570 motherboards
Asus says that "every single PCIe x16 and M.2 slot on most of our lineup is wired with PCIe 4.0 for maximum bandwidth". It adds that, only its most affordable models make a couple small cuts to keep prices down, and stick to PCIe 3.0 for their secondary x16 and M.2 slots.
With the new high-end 3rd Gen Ryzen CPUs and the X570 chipset you will see that an actively cooled chipset will become commonplace and Asus says that it has also equipped "sizable chipset heatsinks… that help the underlying silicon stay cool under pressure". Much of the thermal pressure comes from the chipset facilitating double the bandwidth via PCIe 4.0.
PCIe 4.0 SSDs look set to come with various thermal solutions but Asus will help these stay cool with its own integrated cooling for M.2 slot(s) in all but the Prime X570-P.
Other key features boasted by Asus are as follows:
ROG X570 boards use the latest-gen OptiMem III technology for memory tuning.
ROG boards come with brand-new Intel Wi-Fi 6 AX200 adapters.
Nearly every member of the family has an integrated I/O shield for streamlined looks and easier installation, as well as integrated Aura Sync RGB lighting.
ROG Crosshair and Strix series carry premium SupremeFX audio solutions with integrated amplifiers and op-amps, while other ROG board offer DTS Surround Unbound technology.
Overvoltage and ESD protection is standard, and higher-end models boast Ethernet ports with LANGuard power spike protection.
SafeSlot metal armour and nickel clips hold heavy graphics cards in place.
Crosshair and Strix models include ProCool graphics card power connectors featuring beefier pins and metal casings.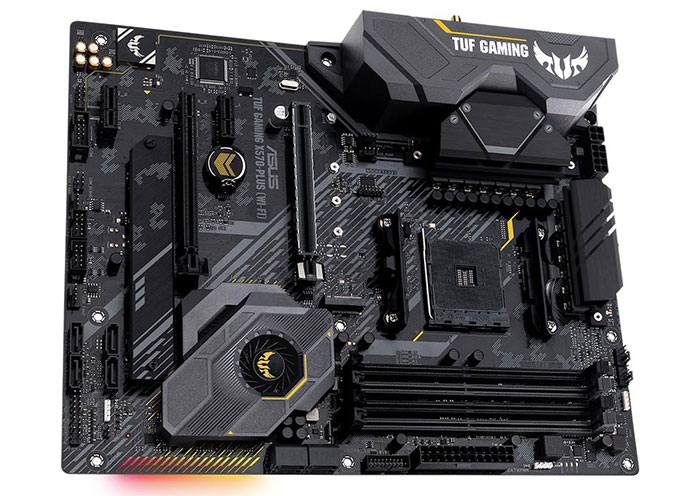 Asus has kicked off its X570 chipset motherboard range with 10 SKUs in total, ranging from ATX, Mini-DTX, and microATX sizes. You can read though Asus' summary of its new boards (including comparison tables) and look more closely at each model on the Asus EdgeUp blog.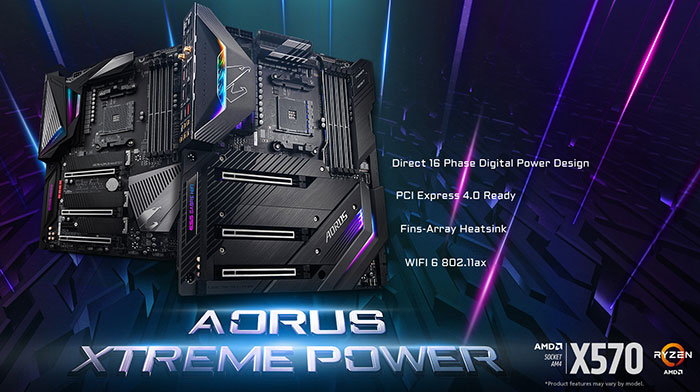 Gigabyte Aorus X570 motherboards
Gigabyte's flagship new X570 motherboard is the X570 Aorus Xtreme. This board features a 16-phase digital power design plus a Fins-Array Stacked Fin Heatsink with Direct Touch Heatpipes for the VRM cooling. For wireless connectivity the board is equipped with a Wi-Fi 6 802.11ax adaptor. Another key point Gigabyte wants to highlight is that the X570 Aorus Xtreme features the newest iteration of Q-Flash Plus Technology for users to update the BIOS with ease and convenience.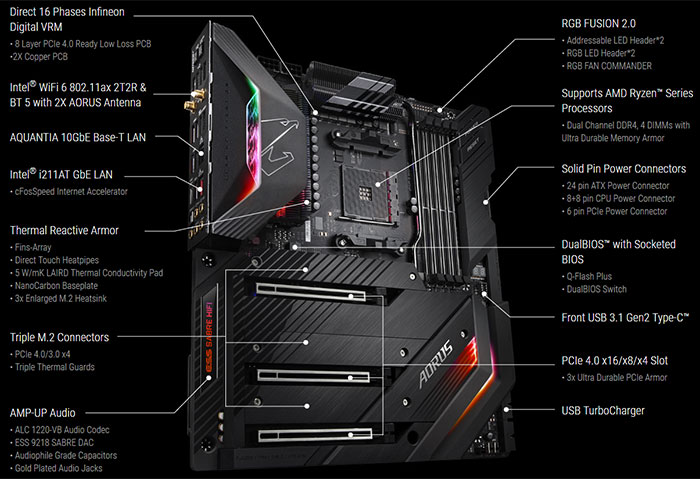 Moving down through the new range of motherboards, Gigabyte packs at least 14-power phases in the digital power designs of each ATX board in the X570 Aorus Series. M.2 slots on the X570 Aorus Series motherboards support PCIe 4.0 and SATA modes so users can purchase M.2 SSDs without compatibility concerns. To keep your super-fast SSDs cool, you will find M.2 Thermal Guards on these slots.
The entire X570 Aorus lineup offers Intel Gbe LAN and the X570 Aorus Master and X570 Aorus Xteme provide 2.5Gbps and 10Gbps connection speeds respectively. Furthermore, all Wi-Fi equipped models include the Intel Wi-Fi 6 802.11ax chip as standard. Carrying over from previous Aorus ranges are the popular RGB Fusion LED lighting, sleek I/O shroud design, Smart Fan, Hi-Fi audio, and more.

MSI X570 motherboards
MSI has prepared seven new motherboards to coincide with the launch of AMD's 3rd Gen AMD Ryzen CPUs and X570 chipset. All the MSI X570 boards include Zero Frozr Technology cooling for the chipset which auto adjusts the fan speed depending upon the chipset temperature and is adjustable to user preference. These designs feature a heatsink and a patented fan with double ball bearings plus Propeller Blade Technology.
Just like its rivals, MSI has sought to supplement any thermal solution that comes with any PCIe 4.0 M.2 SSDs you might purchase. In MSI's case this is the M.2 Shield Frozr, which it says can be effective to "avoid throttling". Another highlight of the new motherboards are that they use "server grade PCB construction," for reliability and durability plus 30 per cent improved signal transfer effectiveness, according to MSI.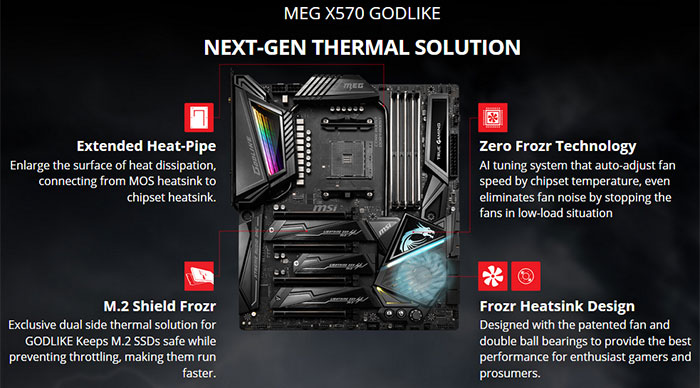 MSI's top-end X570 board is the MEG X570 Godlike. As you might expect it offers lavish enthusiast features such as the Dynamic Dashboard with OLED display, an Xtreme Audio DAC, Killer Wi-Fi 6, Extended Heat-pipe and Double side M.2 Shield Frozr for the best thermal solution, and a bundled M.2 Xpander-Z Gen4 card for additional M.2 Gen4 SSDs and 10G Super LAN connectivity.
Other members of the MSI Gaming series include the MEG X570 ACE, MPG X570 Gaming Pro Carbon WIFI, MPG X570 Gaming Edge WIFI, and MPG X570 Gaming Plus. Outside of the gaming realm, MSI is promoting the Prestige X570 Creation and the X570-A Pro motherboards.
Rest assured HEXUS labs will be reviewing some of the best new AMD X570 motherboards as they become available.