Yesterday afternoon MSI indulged PC enthusiasts with a live streaming teaser session via its Twitter account. MSI execs Eric Van Beurden and Pieter Arts hosted the event which was scripted to provide "a sneak peak of all the future gaming products which are displayed at Computex 2019".
The chummy pair talked though a series of products which included the MSI GT76 Titan laptop, the Trident X Plus desktop, various Optix gaming monitors, and some gaming peripherals like mice, keyboards and even a chair for gaming PCs. In the content-creator targeted Prestige range we saw that MSI was planning the P100 desktop, and a new HDR 600 monitor for the Prestige family with Nano-IPS panel and 98 percent DCI-P3.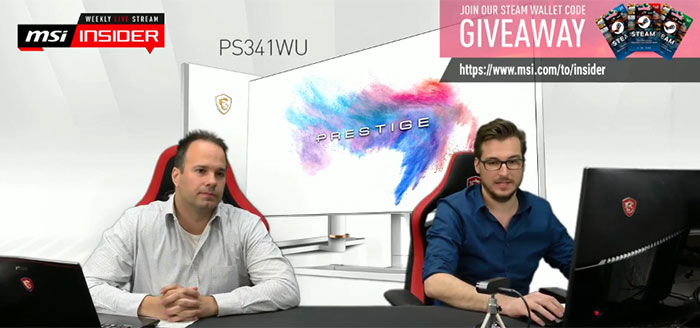 Interestingly, MSI showed off some new PC building components too. We got a peak at the Harpe 300 series chassis and the Sekira 500 series, as well as a Core Frozr S air-cooler for CPUs. Just one new graphics card was teased, but it will be a popular halo product for MSI - the RTX 2080 Ti Lightning 10th Anniversary Edition.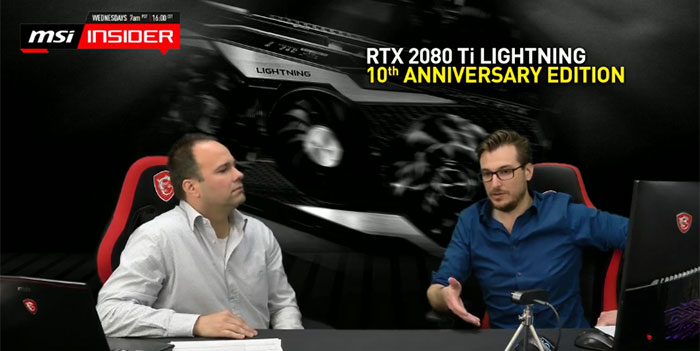 Back on Monday, HEXUS reported upon the leaking of a pair of AMD X570 motherboards, though it didn't describe them as such, they were just previewed as new upcoming AMD motherboards. In the live-streamed sneak peak video MSI previewed what will be the MEG X570 ACE and X570 Gaming Plus motherboards. The X570 Gaming Plus is as per the previous leak but the ACE has never been spotted previously.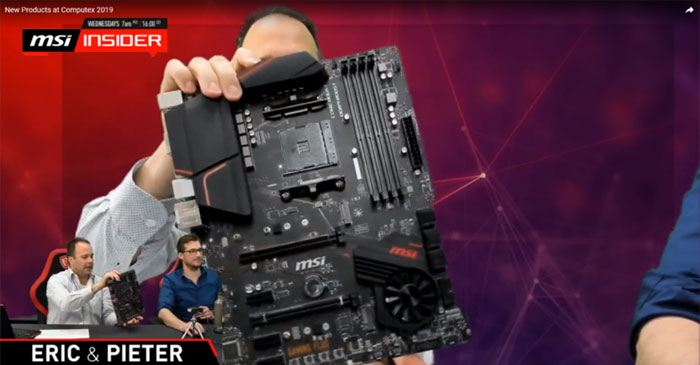 The MSI MEG X570 ACE is powered by twin 8-pin connectors and has a 14+2 phase VRM design. You can see that the 4x DDR4 DIMM slots and PCIe slots are shielded by metal braces. This board features three PCIe 4.0 x16 slots, two PCIe 4.0 x1 slots, and triple M.2 slots. Elsewhere there are two Ethernet ports, five audio jacks, an optical audio port, five USB 3.1 ports, two USB 3.0 ports, one USB type C port, two Wi-Fi antennae connectors, a BIOS update switch and CMOS reset switch. Please note there is an active fan over the chipset too.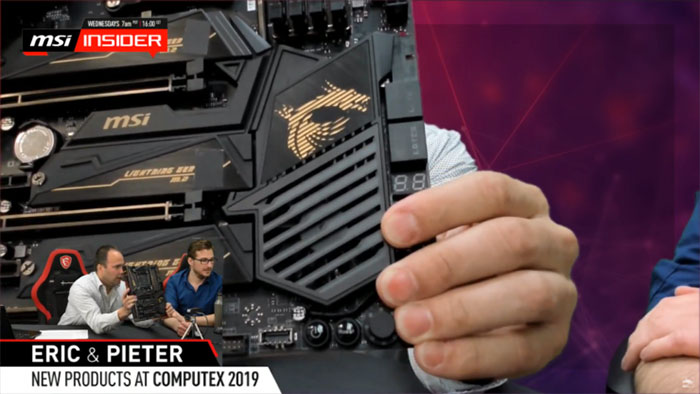 If you watch the YouTube video of the live stream (embedded top) you will note that MSI has edited out the motherboard section as it might cross certain reporting boundaries. Thus, I sourced screenshots for that section from Tom's Hardware and WCCFTech.
Unofficial Platform Diagram for AMD X570
In related news an unofficial platform diagram for the AMD X570 chipset has been shared around the internet (Chiphell, HKEPC, TechPowerUp). The highlight for buyers of X570 motherboards will be support for PCIe Gen4. As TPU reports, "the X570 chipset appears to put out 16 downstream PCI-Express gen 4.0 lanes… two of these are allocated to two M.2 slots with x4 wiring, each, and the rest as x1 links". Please check the diagrams for more info.

Click to zoom diagram
The TDP of the chipset will be at least 15W, that's a threefold increase compared to X470, and the reason that all the leaked and previewed AMD X570 motherboards feature active cooling over the chipset.