Though we have had a couple of leaks pointing to Intel preparing 8C/8T and 8C/16T processors for the consumer desktop PC market, today we have seen somewhat stronger evidence that these parts exist and are indeed on the way.
VideoCardz has shared a photo from its "moles at ASRock," revealing a significant new sticker, which will be applied to the packaging of its range of 300-Series motherboards. Though the picture is a bit skew whiff, it is clear enough and you can see the ASRock H310CM-HDV/M.2 packaging (with somewhat different layout to that on the official product page). Next to the familiar stickers and logos for Intel features and built-in HDMI you can see a rather large "8-core CPU support" sticker.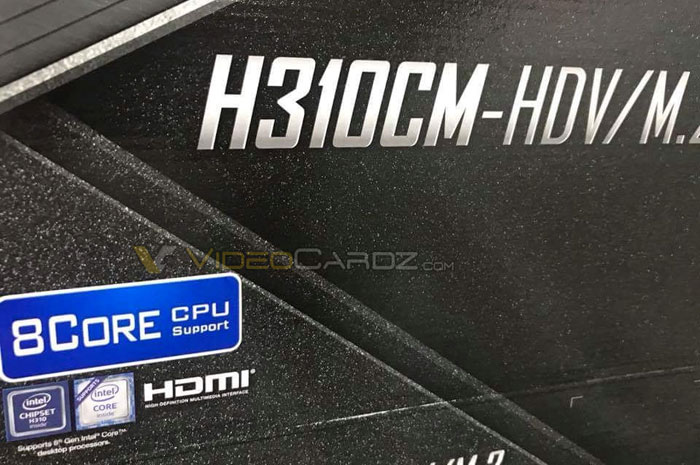 As VideoCardz remarks, "This ultimately confirms two things: the entry-level boards will indeed support 8-core CPUs (it will not be exclusive to Z390 series), and the fact that 8-core CPU even exists".
So far we have seen some evidence of two 8-core processors in the pipeline; the Intel Core i9-9900K and i7-9700K, which are said to come with soldered IHS. As the H310 is an low-entry level board it isn't likely to be paired with one of these unlocked processors by many makers/builders, but it might find favour alongside some future multiplier locked 9th gen 8-core SKUs sold to non-tinkerers.
Remember, it will likely be sometime in September until we see any mainstream desktop 8-core CPUs from Intel.