ASUS at CeBit 2005 - New Toys

CEBIT 2005: ASUS - Dual Graphics Motherboard Breakdown and more!



CeBit is a lot of walking. A lot. As a CeBit virgin, walking my brand new shoes in this morning, I passed ASUS's stand and spotted more than a couple of interesting products hanging up on the wall.


ATI MVP using an ASUS mainboard
So if you want to see the first free look at ATI's MVP-supporting mainboard, MVP being their Multi Visual Processing technology that allows you to put multiple GPUs in a single system, like NVIDIA's SLI. Not codenamed AMR, as some had first though, MVP breaks cover at least in mainboard form with ASUS's P5RD2-MVP Deluxe.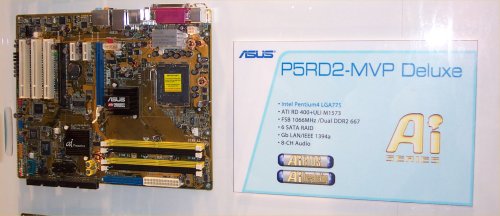 Click for a bigger version


ATI's RD400 northbridge gets paired with ULI's, who bought AMD's AMD64 core logic business last year, M1573. The northbridge supports all current P4 processors, including the latest 266MHz P4s, DDR2 at 667MHz, 6 SATA ports (unless I'm blind, I can only see 4), two ATA ports and a couple of PCI Express 1X slots. The pair of PEG16X slots is the obvious talking point.

MVP supports split frame rendering using supertiling, where the screen is split up into tiled areas with each tile processed on a GPU, using any GPUs that support supertiling. That's anything from R300 up, but it's likely to be limited to R4xx GPUs. You can use X700 and X800, X800 XL and X850 XT PE, or any other mix that you can think of. There's the potential to increase anti-aliasing IQ using supertiling (multipassing the tiles through a GPU) and MVP.

Sync data ad scanout framebuffer data is sent over the PEG links to the host, with the master board doing scanout to your display.



ASUS A8N-SLI Premium
What separates the Premium from the Deluxe is an IC to manage the PEG lane split for the SLI slots, rather than a continuity connector or jumper block, like you'll have seen here in my review of ASUS's A8N-SLI and DFI's LanParty boards.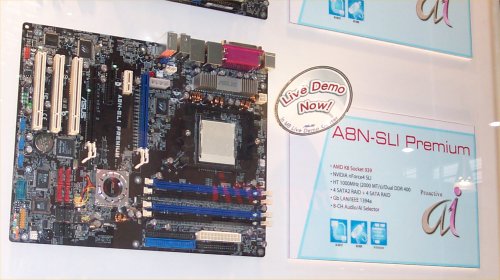 Click for a bigger version