Although the rumour-mill says that AMD's next-generation quad-core Phenom CPUs aren't due for release for a couple of weeks, ASUS has jumped the gun by showing on the web some of its upcoming range of Phenom-ready motherboards - units that will also run current AM2 processors.

Top of the list is the M3A32-MVP Deluxe/WiFi-AP, a board that looks set to deliver on performance. It uses the latest AMD 790FX chipset paired with the HyperTransport 3.0 system bus offering speeds up to 5200MT/s.

The SLI-ready board has six PCI Express 2.0 slots, four of them 16x and suitable for graphics cards. Also featured is ASUS's own Cool Mempipe system, reckoned to lower the temperature of RAM modules by up to 10°C.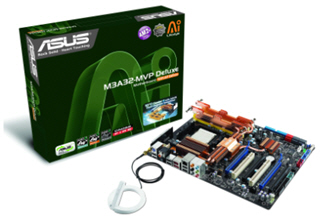 Completing the line-up of new models are the M3A32-MVP Deluxe and M3A.

The M3A32-MVP Deluxe - along with the top-end WiFi variant - is reckoned to offer super-fine adjustments for overclockers, together with an auto overclocking system that detects the load on the CPU and dynamically overclocks it as needed.
Main specifications of all three boards are below.


Model

M3A32-MVP Deluxe /
WIFI-AP

M3A32-MVP Deluxe

M3A

CPU

AMD AM2+ / AM2 CPU support

Chipset

AMD 790FX / SB600

AMD 770 / SB600

Memory

DDR2 1066* / 800 / 533

System bus

Up to 5200 MT/s

Graphics

Four PCIe 2.0 x16

One PCIe 2.0 x16

Gbit LAN

x 1

x 1

x 1

WiFi-AP

x 1

-

-

Audio

Eight-channel HD

Storage

Seven SATA 3.0Gb/s
(one of them eSATA)

Four SATA 3.0Gb/s

ASUS Cool Mempipe

y

-

-

Precision Tweaker 2

y

y

-

8+2 Phase Power Design / Stack Cool 2

y

y

-

4+1 Power Phase Design

-

-

y

Q-Shield

y

y

y


* DDR2 1066 is supported by AM2+ CPUs only

As we've come to expect from ASUS, all three motherboards incorporate a host of useful features. These include ASUS Q-Shield 'for easy and comfortable installations'; AI Gear 2 for CPU-power savings; and Quiet Thermal Solutions for what's claimed to be more stable and cooler running.

Head over to ASUS for the official press release. Check out the jargon and the details of the two better-spec'd boards here. And don't forget to have your say in the HEXUS.community.