Notebooks are the future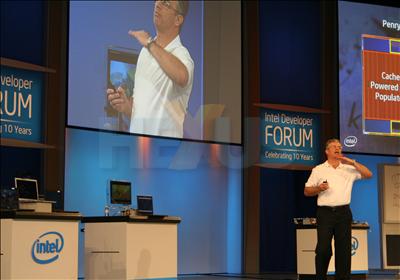 David (Daddi) Perlmutter kicked off mobility day at IDF 2007 by reiterating Intel's tick-tock strategy is equally applicable for notebooks, thanks to the platform-wide Core architecture.

Citing popular research, Daddi noted that laptop sales will exceed desktops by 2009. He commented that the user requirements remain broadly similar, which include the four Centrino-established vectors - performance, battery life, LAN, and form-factor, respectively. However, now other vectors are becoming increasingly important - data protection and anti-theft security, for example, and it's these factors that Intel is directing particular efforts to when designing forthcoming mobile platforms.


More speed with less power - an oxymoronic aim?
Performance still matters, he said, quoting that the upcoming Montevina platform's performance is double the original Centrino's. In terms of integrated graphics performance, Daddi said that, compared to 2006 levels, IGP's performance will be 10x higher by 2010. On a more prescient note, we'll have to see when Intel finally decides to roll in hardware-accelerated support for all current high-definition formats, though.

Pure performance, he said, cannot come at the expense of a larger form-factor and, just as importantly, must fit inside the thermal envelope set by current specifications.

The Montevina platform, comprising of Penryn processor, Cantiga chipset, and Echo Peak WiFi card - the successor to incumbent Santa Rosa - will debut in mid-2008 with the processor operating at a maximum TDP of 25W. Thinking about battery life, he noted that the mobile Penryn processor includes a number of power-saving characteristics that help reduce power-draw during idle periods, which, in turn, helps extend battery life. Solid state-based memory will also come to the fore with Montevina, he mused, indicating that associated power savings and lighter weights mated well with Centrino's raison d'etre. In the interim, the present Santa Rosa platform will be refreshed in January 2008, providing support for Penryn-derived mobile processors and an DX10-supporting IGP.

Centrino saw the birth of pervasive WiFi. At the time of introduction only 10 per cent of laptops were equipped with integrated WiFi, he said. Now that figure is around 90 per cent. Santa Rosa's Kedron WiFi module currently offers 802.11n and that'll continue with the Echo Peak minicard and half minicard in Montevina, which also includes integrated WiMAX technology - mobile broadband for the masses.

Widespread WiMAX adoption is a clearly stated Intel aim, Daddi proffered, but it requires significant investment in infrastructure and dialogue with a range of high-profile partners. In particular, we reckon that European operators substantially overpaid for 3G licenses and they'll need to somehow recoup the cost before WiMAX (4G) becomes the accepted standard. WiMAX, then, is a technology that'll be held back by current commercial concerns, in Europe at least.


The low-power future?
Intel's design team was tasked with architecting a ground-up processor with a significantly lower power profile than current mobile CPUs. That CPU is manifested by the Silverthorne core, based on 45nm process technology, and drawing <1W. The power/energy efficiency ratio is such that Silverthorne has very little in architectural common with the Core microarchitecture. Silverthorne allied with the Paulsbo chipset (Menlow platform) is initially aimed towards mobile internet devices (MIDs), and Menlow-derived devices should the light of day in early 2008, replacing the somewhat unimpressive McCaslin MID-oriented platform.
Summary
We gather that Centrino's evolution is going at the expected pace. Montevina, the next major refresh, is less than a year away and will WiMAX to the masses.