Apple has wrapped up its special Hello Again event in Cupertino. As expected, the main attraction at the invite-only gathering was the introduction of new MacBook Pro laptops. The major innovation that arrived with the new MacBook Pros didn't escape the leaksters either; the new machines feature a multi-touch sensitive OLED bar where a traditional laptop's function key row would sit.
The new MacBook Pro is hailed as "groundbreaking… a touch of genius" by Apple. It is available to pre-order straight away in either its 13-inch or 15-inch incarnation. Whichever you choose Apple says you are getting the thinnest, lightest and most powerful machine of its class yet. For the record the new 13-inch MacBook Pro weighs 1.37Kg and is 1.49cm thick, its 15-inch sibling is 1.83Kg and 1.55cm thick.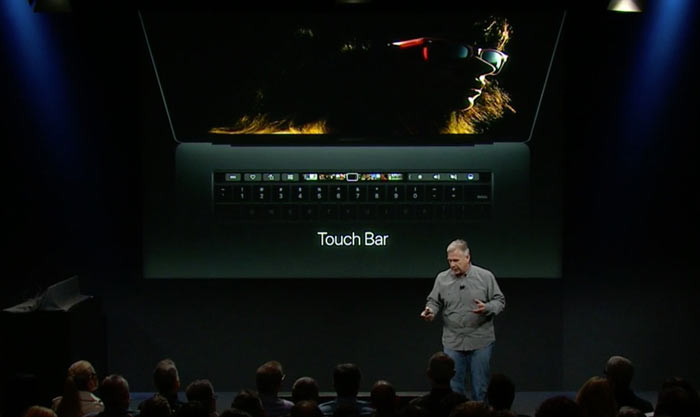 As mentioned in the intro, the headline attraction of the new MacBook Pros is the Touch Bar. In earlier leaks this was dubbed the 'magic toolbar'. Apple calls this OLED multi-touch Retina display a "revolutionary new way to use your Mac". It says that it has replaced the ancient function key row with something "much more versatile and capable".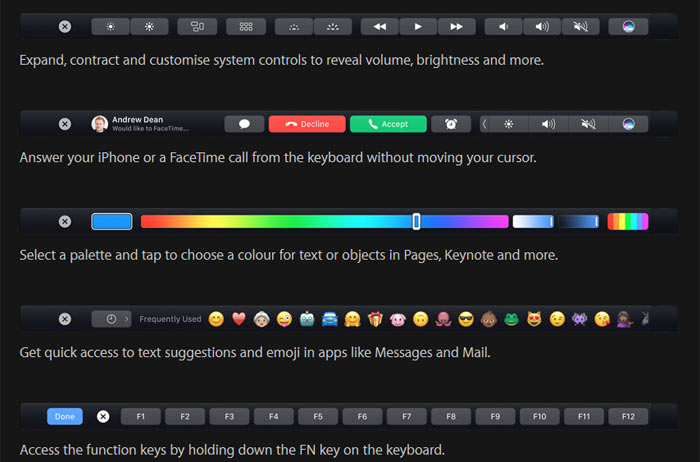 The content of the OLED display changes as you work in different apps on your Mac. It can display system adjustments like brightness, volume, and so on. While browsing the internet it can provide a row of favourites, when messaging it can provide easy access to emoji and predictive text. In third party apps like Photoshop it was used for various control panels like a colour picker or brush size. Apple also demoed a DJ app using the Touch Bar for scrubbing, which is also an applicable function in video editing apps like in the new Final Cut Pro X. Touch Bar functionality will be supported by plenty of other apps in the near future including Microsoft's Office suite.
Bringing in some of its mobile tech to the Touch Bar, the default configuration includes a Siri button, and TouchID for ID verification and power button access. The bar can be customised by dragging things down from the main laptop screen to a pane that pops up.
Moving on to more general specifications, the new MacBook Pros deliver the brightest (500 nits) and most vivid displays yet while consuming significantly less energy. The 13-inch model has a native resolution of 2560-by-1600 pixels, and the 15-inch version offers 2880-by-1800 pixels. Both models use IPS screens with LED backlighting.
For processing you have a choice between various 6th generation Intel Core processors. The 13-incher is available with a dual-core 2.9GHz Core i5, while the 15-inch model is offered with a choice of a quad-core 2.6GHz or 2.7GHz Core i7 processor. For graphics the smaller model uses integrated Intel Iris graphics only, while the larger version features either a Radeon Pro 450 or 455 with upgrade options to a Radeon 460. Various memory and storage options are available up to 16GB of RAM and 2TB PCIe-based SSDs.
All the MacBook Pro (with Touch Bar) models include 4x Thunderbolt 3 (USB-C) ports with support for charging, DisplayPort, Thunderbolt (up to 40Gbps) and USB 3.1 Gen 2 (up to 10 Gbps). Users can connect up to 2x 5120-by-2880 resolution monitors at 60Hz with over a billion colours. Adapters can be purchased to support older VGA and HDMI screens. Wi-Fi 802.11ac and BT 4.2 is built-in. There is a handy 3.5mm headphone jack too. Above the screen panel is a 720p FaceTime HD camera supported by a trio of microphones. Apple has built-in some enhanced HDR stereo speakers "with double the dynamic range and improved bass".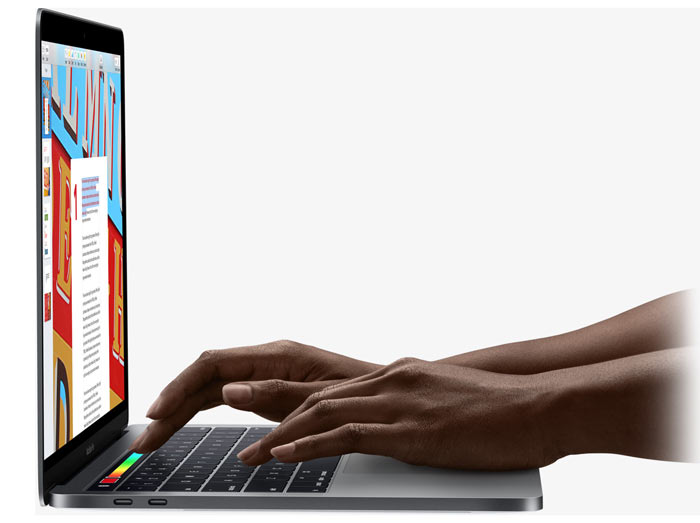 Apple says it has improved the responsiveness of these laptop keyboards "with a second-generation butterfly mechanism". All models feature keyboard backlighting. The Force Touch trackpad has been almost doubled in surface area across all models too, thus it is said to offer even better cursor control and gesture recognition. MacOS Sierra ships with these Macs, supporting all the new Touch Bar features.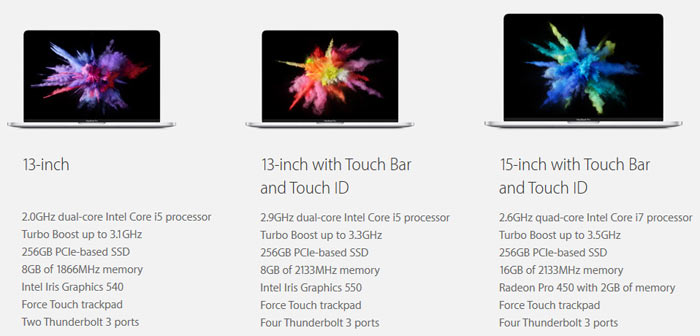 You can buy all the MacBook Pros online (with Touch Bar with integrated Touch ID sensor versions shipping in 2-3 weeks from now (3-4 weeks in UK)), with prices ranging from $1799 (£1749) to $2799 (£2699) in the default pre-made configurations. Apple is keeping one older style 13-inch model with regular physical function keys, but otherwise modernised, priced at $1499 (£1449) and available immediately.