We have covered news of the intriguing prospect of China's Xiaomi entering the PC laptop market previously. With an ex-top Google exec at the helm and a reputation for solidly built, well specced, and excellently priced Android smartphones (and accessories), can Xiaomi make waves in the Windows PC laptop market? Have a look at these leaked slides and decide for yourself.
Both variants of the Xiaomi Mi laptop presented in the slide deck feature 6th Gen Intel Core processors. Previously rumours had pointed to Xiaomi using older Haswell parts for cost/performance maximisation but perhaps the firm got a better current gen deal as it made its plans clearer to Intel. It's good to see that both models come with an SSD drive as default.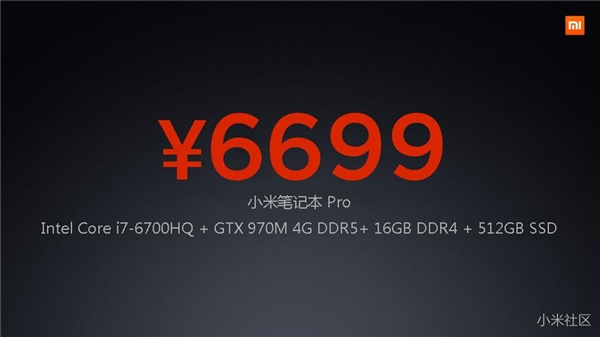 The top model of the Mi laptop comes with an Intel Core i7-6700HQ processor, with GTX 970M graphics, 16GB RAM, 512GB SSD, and a 15.6-inch 4K screen. Xiaomi propose to sell this machine for 6699 Yuan, equivalent to £765, or $1000, today.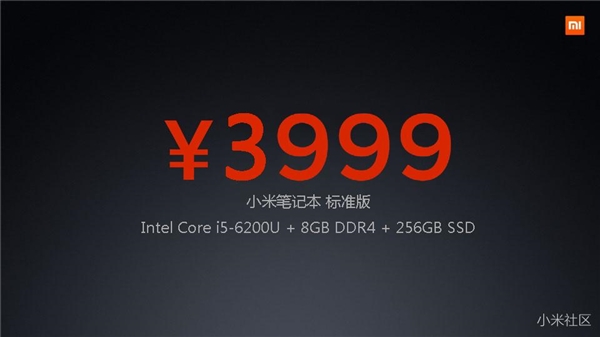 If your laptop needs are less demanding but you still like Xiaomi's style, you could opt for the cheaper Mi laptop, as outlined above. This offers specs including an Intel Core i5-6200U processor, Intel HD 520 graphics (integrated graphics), 8GB of RAM, and a 256GB SSD. This model also sports a 15.6-inch screen, but not 4K, more likely 1080p. With its reduced spec the i5 version of the Mi laptop gets a significant price cut and will sell at 3999 Yuan, according to the leaked slides – that's equivalent to £457, or $600, today.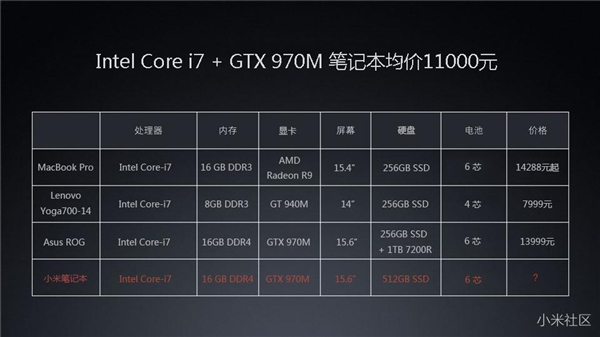 Interestingly, one of the slides compares the Xiaomi flagship laptop with the MacBook Pro, Lenovo Yoga 700 and an Asus ROG gaming laptop (see image directly above). Is Xiaomi hoping to attract buyers from all these market segments?
One worrying aspect about the above leaked slides is that several sites reproduce them alongside doctored images of an Asus Zenbook Pro ux501vw – with the Asus logo removed… As always with this type of information it's always best to take it with a pinch of salt. However, it won't be long until the official reveal, Xiaomi is expected to show off its first ever PC laptops at an event next Wednesday.