On the second day of Computex 2015 MSI has held a gaming press conference to highlight its extensive range of PC gaming hardware. Featured products include cutting edge gaming laptops like the GT72, GT80 and GE72. The new Nightblade MI desktop was also shown off as were graphics cards and motherboards designed to let PC gamers get the most from their other hardware.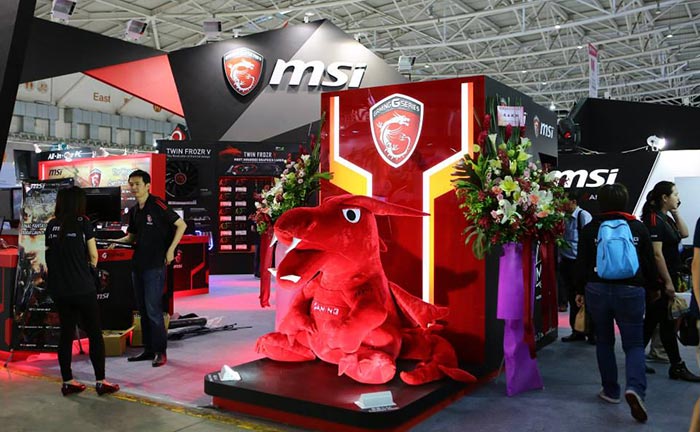 US$200,000 Masters Gaming Arena 2015
MSI took the opportunity to announce that it will host the Masters Gaming Arena 2015 – the MSI MGA. Contestants at this tournament can gain prizes from the US$200,000 purse. A partnership with Blizzard Entertainment and the Electronic Sports League (ESL) is in place and the games will include StarCraft II and Heroes of the Storm (a game which officially launched today).
MSI's Computex laptops
The MSI GT72, which HEXUS reviewed in October last year, will be shown in a new enhanced version at Computex. This powerful 17.3-inch gaming laptop with a quad-core Intel Core i7 CPU and GTX 980M GPU outfitted with 8GB of GDDR5 memory will get added eye-tracking and G-SYNC technology. Eye tracking comes courtesy of a new partnership with Tobii Technology. The laptop will also be graced with Nvidia G-SYNC to match the refresh rate from 30~75Hz says MSI.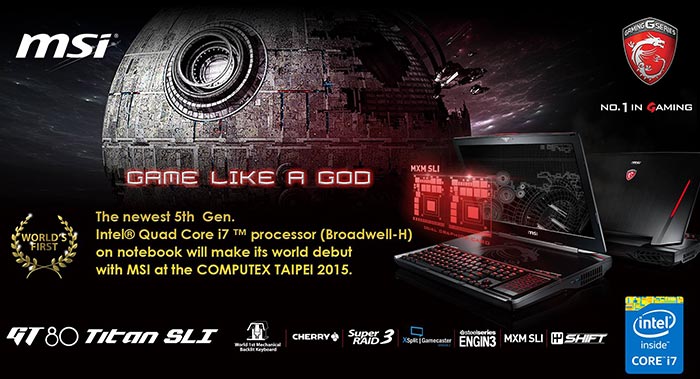 MSI is featuring the 18.4-inch GT80 with Core i7 Quad Core CPU and NVIDIA GeForce GTX 980M SLI of dual graphics AND a built-in mechanical keyboard. It isn't clear if the company has implemented many improvements to this laptop design since we reviewed it in March 2015. However it will get a new Broadwell-H i7 processor and it does look like the Wi-Fi has been upgraded to a Killer ExtremeRange with Killer Wireless-AC 1535 component integrated.
On its GS60/70 and GE62/72 laptops is trumpeting the use of Nahimic audio performance technology. This is said to provide enhanced sound quality and "an immersive virtual 7.1 sound over your standard stereo".
Gaming PCs
MSI is showing off the new Nightblade MI with the latest Intel Core i7 processor and Nvidia GeForce GTX 900-series graphics card installed. It includes the above mentioned Nahmic sound tech and its compact form is said to be equipped with and efficient cooling solution.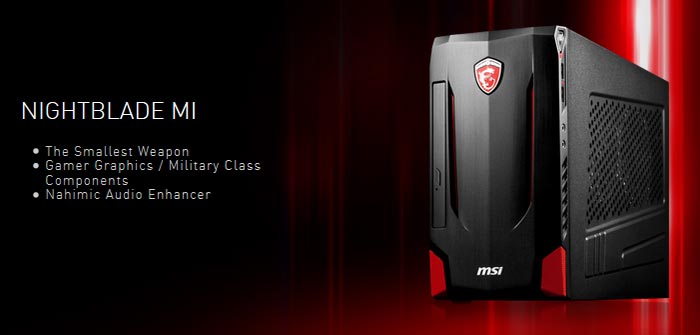 All-in-One designs aimed at gamers are also present, again with Nahmic sound built-in. MSI has aimed high (resolution) and is introducing the AG270 3K and Gaming 24GE models with 3K and 4K screens respectively. They both feature the latest Intel Core i7 and i5 processors and Nvidia GeForce GTX 960M and GTX 970M graphics. The AG270 2QC 3K features a 27-inch panel with a 2560x1440 resolution. The Gaming 24GE with 4K panel isn't just for gamers, it makes for a complete PC solution for 4K video editing and encoding, says MSI.
Gaming PC components
From its graphics card range MSI is highlighting its "Cooler, Quieter, Better," designs. These include the GTX 980 GAMING 4G with Twin Frozr V cooler and the Armour 2X series with enhanced cooling and striking new Black & White designs. MSI also has new graphics cards sporting the recently launched Nvidia GeForce GTX 980 Ti.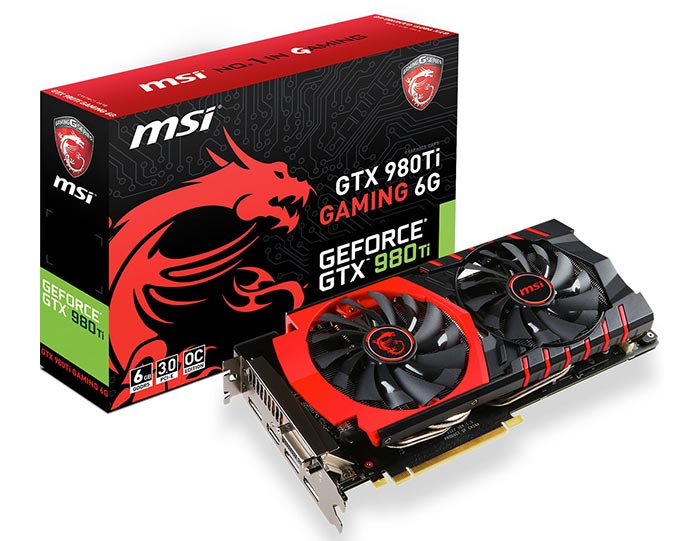 MSI motherboards for gamers in the spotlight include the X99A GAMING 9 ACK equipped with Audio Boost 2, Killer LAN & Wi-Fi networking, support for Turbo M.2 32Gb/s, USB 3.1 and SATA Express devices and other key gaming features. MSI is also proudly to showing off its Z97A GAMING 6 motherboard; the first in the industry to pass Microsoft Windows 10 official certification. Finally MSI has introduced two new models to its USB 3.1 lineup; the Z97A SLI Krait Edition & Z97A PC Mate motherboards.