Following the success of the affordable Transformer Book T100 convertible 2-in-1 Asus looks to be preparing a premium model for launch. An unannounced device called the 'Asus T100 Chi' was spotted on the Wi-Fi Alliance website this week, reports Liliputing.
The Transformer Book T100 grabbed attention with its inexpensive price tag, while offering capable, portable, convertible computing options for work or play. Having been well received, it is not surprising that Asus is seeking to expand upon the range, working on a possible premium T100 model, although little is known about the upcoming device besides its probable existence.
The only fact certain about the T100 Chi is that it is made by Asus, in addition to the Wi-Fi Alliance website's description of a tablet with dual-band 802.11n Wi-Fi connectivity and Windows 8 as the operating system in place.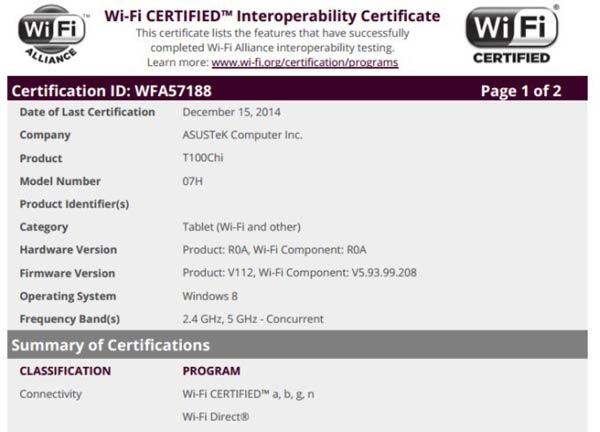 The 'Chi' name has already been used by Asus in the past with its Transformer Book T300 Chi, an ultra-thin convertible powered by Intel's Core M processor, so there is the possibility that the T100 Chi could also come equipped with a Core M Broadwell CPU and boast a higher resolution display. If a 'Chi' model is a higher end device then we expect to see the T100 Chi with both improved display and processor. However if this new model was supposed to fill the existing T100 model's shoes some spec would have to be cut to reach the lower price points expected.
It is assumed, from ASUS model naming conventions, that the T100 Chi will be a 10-inch screen device like its T100 predecessor. There's no word on price or launch date as of yet. The device is likely to make an entrance at the CES next month in Las Vegas, so we will keep our eyes peeled.