As you have just read here on HEXUS, Lenovo is doing very well in maintaining its lead in PC shipments. It's growing its market share while others flounder. The company pointed out that its smartphones and tablets are doing quite nicely too. So here are three new Lenovo products which it most hope can keep it ahead of competitors. All three are members of the YOGA range. The two new tablets feature a new 'Hang' mode and improved stand.
Lenovo YOGA 3 Pro - Windows

The new YOGA 3 Pro is 14 per cent lighter than before and is thinner than a pencil when opened up. Lenovo's YOGA Pro convertible is just 12.8mm thick and weighs in at 1.19Kg. The remakarble thinnes is down to a new watchband hinge constructed from more than 800 pieces of steel and aluminium, we are told.
It's 13-inch QHD+ 3200x1800 display is coated with Gorilla Glass, especially useful in touch-modes. As you would expect this YOGA is useable in laptop mode, stand mode, tent mode and tablet mode.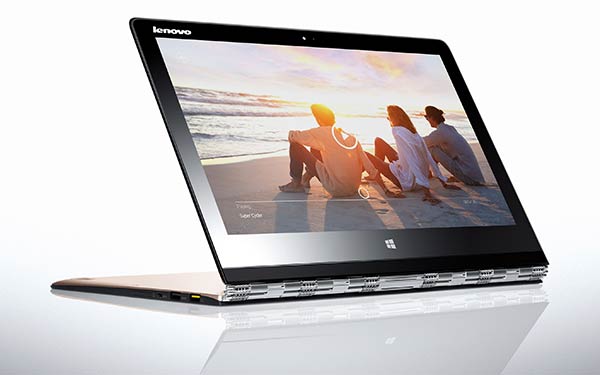 The YOGA 3 Pro is powered by the "Latest Intel Core M Processor," but we haven't been given further spec on this component. Users can specify an SSD up to 512GB in capacity. Lenovo has equipped this convertible with "premium JBL speakers with Waves Audio".
This new convertible will be available from the end of October starting at £1299.
Lenovo YOGA Tablet 2 Pro - Android

Said to have been designed by "product engineer Ashton Kutcher," this device is built to entertain. It's a 13-inch QHD 2560x1440 screened tablet which stands out from the crowd thanks to having a built-in projector with which you can watch your films and TV shows on a suitable wall/screen. The Lenovo YOGA Tablet 2 Pro complements the visuals with an 8-watt sound system with a built-in subwoofer, "you'll really think you're in the cinema," says the PR blurb.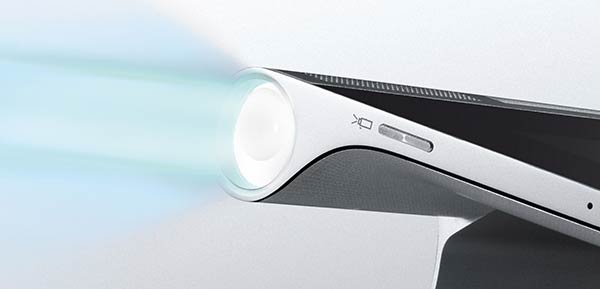 Other specs of the YOGA Tablet 2 Pro include; 4th generation Intel Atom processor, 32GB storage + microSD slot, an 8MP rear camera and up to 15 hours of battery life. 4G connectivity is optional.
Again this model will be available from the end of this month. Prices start at £449.
Lenovo YOGA Tablet 2 - Android 4.4 or Windows 8.1

Lenovo will make its YOGA Tablet 2 available with either the Windows or Android OS. Users can also choose between screen sizes, this tablet will be produced in both 8-inch and 10-inch screen sizes. They utilise an Intel Atom processor with optional 4G connectivity.
Key features of these tablets include 10-point multi-touch, 8MP rear cameras and Dual front-facing speakers with Dolby Audio and Wolfson Master HiFi.
The 8 and 10-inch Android models are available now in the EU, priced from €229 and €299 respectively. The 8 and 10-inch Windows versions (with Office 365 for one year) will be available in late October priced from €249 and €399 respectively. That's a big jump for the 10-inch Windows tablet, perhaps it doesn't qualify for the Microsoft OS discount.