Acer is the maker of the best selling Chromebooks available on the market. Today it hopes to push that lead even further ahead with the introduction of the Acer Chromebook 13. This new Chromebook is notable as the first to be powered by an Nvidia Tegra K1 processor. It's available in three configurations ranging from US$279 to $379.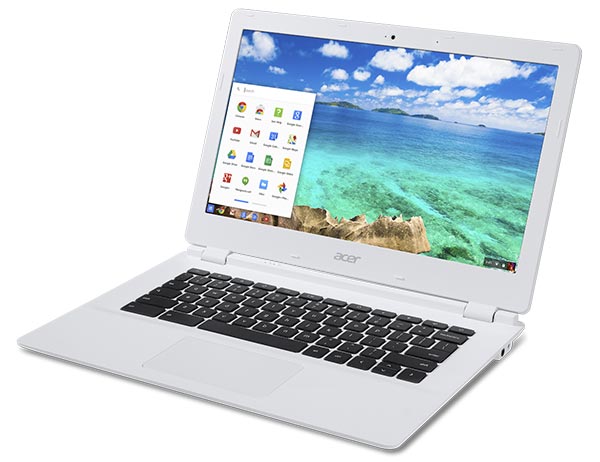 While both Acer and Nvidia blew a fanfare to introduce the Acer Chromebook 13 as you can imagine Nvidia focussed the most upon the capabilities, strengths and qualities of the Tegra K1 processor;
its quad core processor offers faster general computer processing than many competitive processors
its graphics processing capabilities are also ahead of the pack which can help with graphically rich WebGL apps, utilising Unreal Engine 4 and Unity 5 for instance
its power efficiency means that you can achieve great battery life, up to 13 hours in the case of this new Acer Chromebook 13
users can enjoy the benefits of a fanless design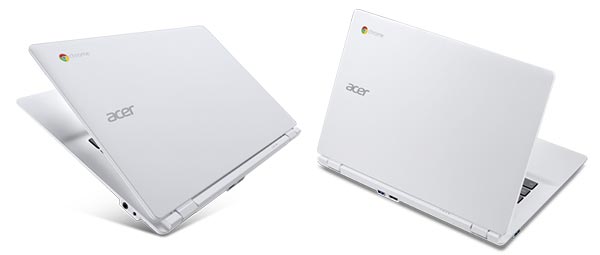 As you might guess from the name, and just like the Alienware 13 discussed earlier today, this is a notebook with a 13-inch screen. Acer also offers its 13-inch laptop with a choice of screen resolutions. At the budget end ($279) you get a 1366 x 768 panel but both the more expensive models ($299 and $379) employ full HD 1920 x 1080 screens. While the two cheapest models share the RAM/Storage capacity of 2GB/16GB the top priced model enjoys 4GB of RAM and 32GB of fixed storage. Other than these differences the models remain the same.
Acer Chromebook 13 key specs:
Processor: Nvidia Tegra K1 quad-core processor CD570M-A1 @ 2.10 GHz
Screen: 13.3-inch Active Matrix TFT Colour LCD @ 1366 x 768 or 1920 x 1080 pixels
RAM: 2GB/4GB DDR3L SDRAM
Storage: 16GB/32GB, + SD card slot
Wi-Fi: IEEE 802.11ac
Devices/ports: webcam, microphone, HDMI, 2x USB 2.0 ports, 2x USB 3.0 ports
Input devices: keyboard, touchpad
Battery: 4-cell, 3,220mAh, Acer quoted battery life of 11.5hrs
Physical: 1.5Kg, 18mm thick
We also have also been provided with a table comparing this new Acer Chromebook with its closest competitors, it's reproduced below for those that are interested in this product: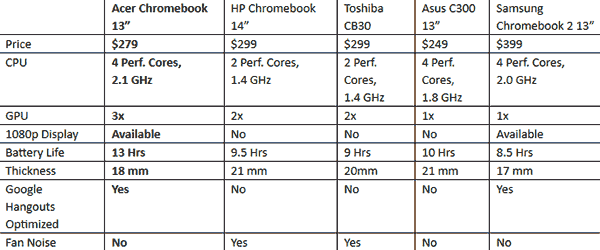 The Acer Chromebook 13 is said to be available for pre-order today, however I couldn't find the product pages on the suggested Amazon.com and Bestbuy.com retail sites at the time of writing (but it's still not even 8am in California).