Lenovo must be doing something right with its products, as it is one of the few PC companies to grow PC sales lately in a declining market. Could the newly refreshed ThinkPad X1 Carbon and new 8.3-inch Windows 8 Pro tablet called the ThinkPad 8 lay the bedrock for more forward momentum moving into 2014?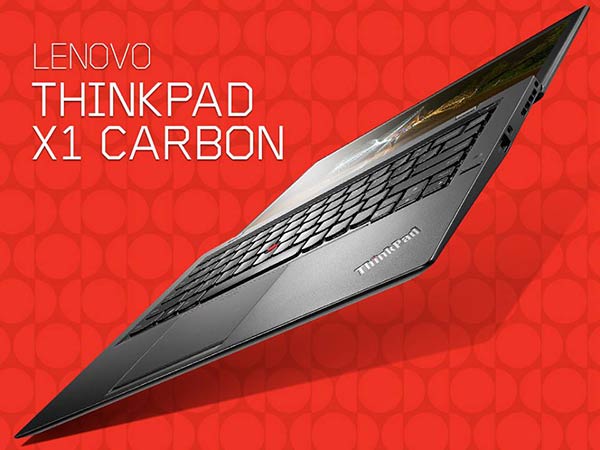 ThinkPad X1 Carbon
The super-thin flagship laptop ThinkPad X1 Carbon is now updated to be 1.73cm thick (down from 1.89cm previously) and 1.27Kg in weight (around 45g lighter). Also a weakness from last year's model has been fixed thanks in part to the new Haswell processor, with Lenovo promising an increase of battery life of over 70 per cent to 9+ hours. It also makes use of Lenovo's Rapid Charge tech which promises an 80 per cent charge in just 50 minutes.
The Ultrabook is powered by one of the latest low-voltage Haswell Core i5 or i7 processors, Intel graphics, at least 4GB of RAM and a 128 GB SSD which is upgradable to 512GB. Although like the original, this notebook has a limited numbers of ports. The new model however, does add a full-size HDMI out and an Ethernet port (requires a special adapter cable). Screens are configurable from a 1600 x 900 pixel TN panel to a 14-inch 2560 x 1440 IPS touchscreen option.
The biggest change to the X1 Carbon is the keyboard. Instead of the traditional row of function keys there is a thin capacitive touch-sensitive strip offering four different sets of controls, depending on what application you're using. The four symbol combinations include a conferencing set with mic and video controls, a web browser set, a standard set with standard system controls and a set for F1 to F12 keys. The system controls include default settings of search, screenshots and other Windows 8 shortcuts which aren't customisable. Though its software the laptop automatically sets the function row depending on what programs are being used.
Finally, voice commands and gesture control has also been added to allow users to swipe through presentation slides and the like by waving their hand. Even with all the updates, the price of the machine has not changed, as it starts at $1,299 and we are told it is available to purchase from later this month.
ThinkPad 8 tablet
Here's another one of those 8-inch Windows tablets that are increasingly common. Lenovo describe this new model as a three mode 'professional ready' tablet offering tablet, docked desktop or 'tent' modes. It's a premium device which is constructed with from aluminium and a good selection of connectivity options, high res screen and Windows 8 Pro.
This new WIndows tablet uses an 8.3-inch touchscreen with a resolution of 1920 x 1200 pixels. The processor is one of the latest Intel Bay Trail Quad Core examples. You can specify this tablet with up to 128GB of built-in storage. The tablet offers a main back camera with a resolution of 8MP. You can connect the ThinkPad 8 to other screens using microHDMI or Miracast technology. The tablet also boasts a USB 3.0 port and optional 4G/LTE.
Prices for the ThinkPad 8 start from $399 and it will be available from later this month.