Google has unveiled its first touchscreen enabled Chromebook; the Google Chromebook Pixel. We heard rumours of such a device and even saw a professional promotional video for it emerge a fortnight ago. Some sites such as ComputerWorld were very sceptical about the video's authenticity but it seems like they were wrong. The device hasn't only been announced tonight by Google, it is available to purchase right now on Google's Play Store in the UK. It will also be available to buy in the UK's PC World chain from tomorrow.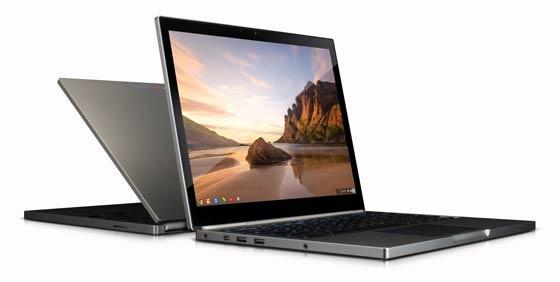 Looking now at the Google Chromebook Pixel specifications table it does seem like the information contained in the leaked video was correct. The feature highlight of the 4.3 million pixel touch screen with a resolution of 2560 x 1700 pixels is precise and correct. The pictures in the leaked video are definitely the same notebook.
According to a report in the WSJ Google designed and built the new notebook with help from a hardware partner in Taiwan. In the US there are two versions of the Pixel for sale costing $1,299 for a Wi-Fi-only version, and $1,449 for a version with additional built-in LTE wireless functionality. It seems like there is currently no cellular option in the UK Play Store. The wireless only model costs £1,049 in the UK.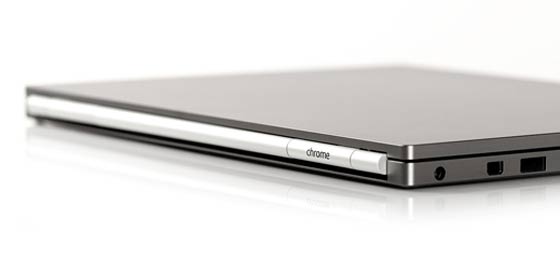 Google Pixel Chromebook technical specifications
Screen: 12.85-inch display with a 3:2 aspect ratio, 2560 x 1700, at 239 PPI, 400 nit screen, 178° extra-wide viewing angle, Gorilla Glass multi-touch screen
Processor: Intel® Core™ i5 Processor (Dual Core 1.8GHz, SandyBridge), Intel® HD Graphics 4000 (Integrated)
Memory: 4GB DDR3 RAM, 32GB SSD, 1TB Google Drive free for three years
Ports: 2 x USB 2.0, mini display port, SD/MMC card reader
Communications: headphone/microphone, speakers, Dual-band WiFi 802.11 a/b/g/n 2x2, Bluetooth 3.0, HD Webcam
Battery: up to 5 hours active use (59 Wh)
Construction: anodized aluminium alloy, touchpad is made from etched glass
Dimensions: 297.7 x 224.6 x 16.2 mm, weighs 1.52Kg
Linus Upson, Vice President, Engineering at Google wrote on the official Chrome Blog "Today we're excited to announce our newest laptop—the Chromebook Pixel—which brings together the best in hardware, software and design to inspire the next generation of Chromebooks. With the Pixel, we set out to rethink all elements of a computer in order to design the best laptop possible, especially for power users who have fully embraced the cloud." He talked about the success and momentum that Chromebooks have started to enjoy. Apparently the Samsung Chromebook has been Amazon's #1 best selling notebook since its launch 125 days ago. In the UK he pointed out that Chromebooks account for 10 per cent of all notebooks sold in Currys/PC World. We have also recently seen a new Chromebook from HP and rumours of Lenovo coming to the party.
The Chromebook Pixel is the next step in the progress of Chrome. Linus Upson turned his attention to the hardware which will drive the platform forward. He boasted about the screen being the "highest pixel density (239 pixels per inch) of any laptop screen on the market today". This screen, combined with the touch facility, is supposed to make the new notebook "simple and intuitive to do things like organize tabs, swipe through apps and edit photos". He wrapped up by reminding us that "all of your favorite Google products like Search, Gmail, YouTube, Maps and Google+ Hangouts are integrated and just a click away" also the system boots up in seconds, and requires "almost zero setup and maintenance".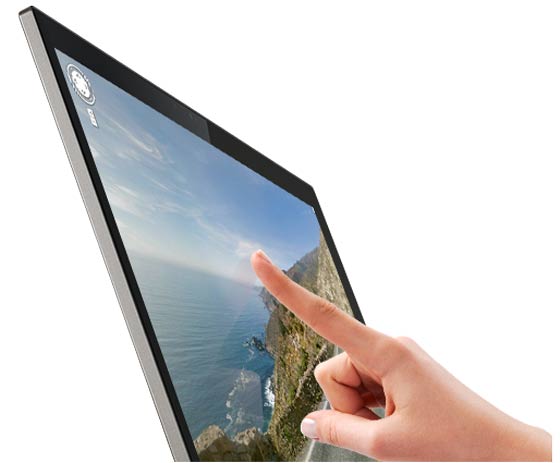 At a press event in San Francisco to mark the launch of the new Google Chromebook Pixel, Google VP Sundar Pichai took time to talk about the new product and answer some questions. Talking about the huge departure in pricing compared to the other Chromebooks on offer Pichai said "We also wanted to design something very premium for power users – people who spend money on their laptops". He added that the new Google computer "stands up very well against a MacBook Air". If anyone ever wants to justify premium prices its common practice to point at Apple.
Pichai was asked, with touchscreens coming to Chrome, how will this impact Android, are the systems competing with each other? The answer quoted by the WSJ wasn't very clear or satisfactory, it reports that Pichai said "you'll see some overlap" between the systems and Google "views these as choices for users" while both systems will promote Google services.
What do readers think of the new Google Chromebook Pixel, its features and its price?