Best of both worlds?
ViewSonic soft-launched the ViewPad 10pro a few months ago, and visited the HEXUS studios to show it off in front of the TV cameras, but it only appeared on the market this week.
There are several novel features to this tablet. It runs Intel's Oak Trail platform, featuring the Z670 Atom processor, which in turn contains integrated Imagination Technologies graphics. This enables its other main distinguishing feature: dual OSs - in this case Windows 7 and Android 2.3.
While Wintel tablets haven't really caught on - certainly when compared to the iPad - there are still a lot of people who would like the greater productivity features of Windows, but in a tablet format. Also, unlike previous versions that have been dual-boot - requiring you to restart in order to switch OSs - this one lets you switch immediately.
"Our Intel platform supports multiple operating systems, and this tablet shows how consumers can move between Windows and Android experiences in a way that offers rich graphics, high-definition audio, easy Internet browsing and longer battery life in a slick form factor," said Bill Kircos, GM of marketing for Intel's netbook and tablet Group.
"We listened to our customers. We made the ViewPad 10pro dual OS interface as quick and intuitive as possible, while partnering with industry CPU leader Intel to deliver the latest in design and innovation across all fronts," said Michael Holstein, VP of business development for ViewSonic.
So far we've only seen the US press release, so we're not sure what the pricing and availability is over here. But a version with 16GB storage and Windows 7 Home Premium will set you back $600 over there, and an extra hundred bucks doubles your storage and upgrades you to Windows 7 Professional.
We'd be interested to know if any readers can see the utility of a dual-OS tablet, or do you think it has the potential to be the worst of both worlds?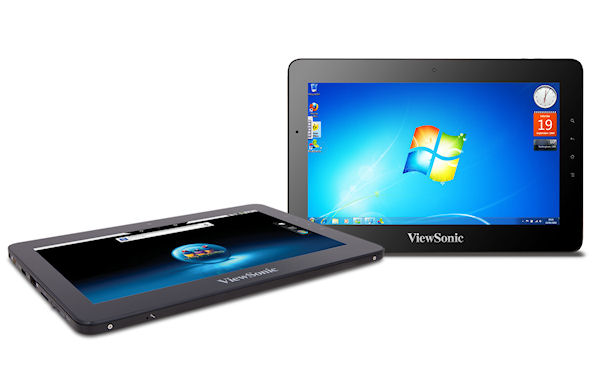 UPDATE - 15:20, 17 August 2011 - We just heard back from ViewSonic and they told us that they'll be waiting until mid September for general availability of the ViewPad 10pro in Europe in order optimise Android 2.3 on Atom. For price guidance Misco seems to already be listing it at £539.99 for the Wi-Fi version and £599.99 for the 3G one.